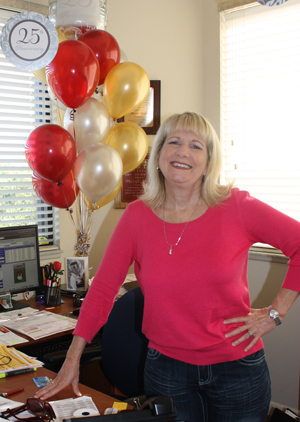 Name: Sheryl Stahl
Position: Regional Service Agreement Manager, from Collier to Manatee County.
How many years have you been a Home-Tech employee? 25 years
What other positions have you held? Office Manager
What gives you the greatest satisfaction?
Offering our customers a great product and seeing them renew year after year. We have many long term customers that have been with us for over 20 years.
What is unique about the Service Agreement Department?
The product itself is very unique and ever changing, which keeps it interesting and challenging.
What is your unique approach to being a successful manager?
Hiring great people, bringing out the best talent in them and then watching them soar. Let them be the best they can be. But, you also have to challenge them to do more than what they think they can do.
What is the future for Service Agreements?
Growth, growth, growth.
Home-Tech is a very woman-friendly organization, don't you agree?
Yes! I don't think there are many companies locally that have as many female managers as Home-Tech. Home-Tech watches newer people, and we recognize talent. We nurture them, and allow them to grow.
What is your favorite saying? 
My all time favorite quote is, "Today is the tomorrow you worried about yesterday."  I read it in a poetry book in high school.
What is your organization style?
I am a mental organizer. I have my whole day planned out before I ever get to the office. However, my day gets interrupted all day long. So my day doesn't always go as planned.
What is the best piece of advise you have ever received?
Don't oversell your point. Make your point and let it go.
What are your interests outside the walls of Home-Tech?
My 5 beautiful grandchildren. I spend most of my free time with them.