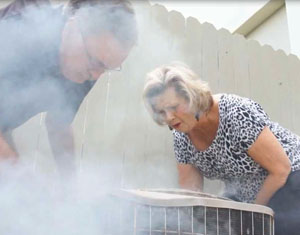 Mother Goose offered a great service and was a lifesaver for scores of parents as they rhymed their children to sleep, and got us thinking about our own air conditioning repair department at Home-Tech which is full of technicians helping folks with their Air conditioning repairs.
Because whether it's a kindly old lady in an apron named Goose, or one of our fantastic service technicians in their snappy uniforms– a lifesaver is a lifesaver.
The Rescue of Mother Hubbard
Fabulous and fit Mother Hubbard
Always kept tools in her cupboard
Just in case of an Air conditioning repair.
She  always tried to care for her lair
But, sometimes, life can be unfair,
and the AC stops making cold air.
She opened up the instruction book
And attempted to give it a look.
But the fine print made no sense
And still, no air came from the vents.
So she turned on all the fans
And started wringing both her hands.
It's hot and almost summer!
Broken AC is a major bummer.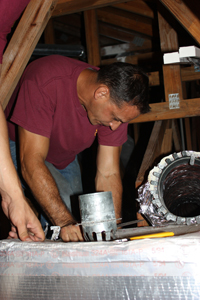 And so she began to call around
Only to discover, no help to be found.
Suddenly, she remembered what Miss Muffet had said:
"Call Home-Tech when your AC is dead!"
She called and magically a Tech came to her door,
Like a Prince arriving by boat on a shore.
When she bought a Service Agreement her first call was FREE
She was so happy, she shouted with glee!
This isn't just a child's nursery rhyme.
To have a repair won't cost a dime.
A Service Agreement is your hero
And it's magical when you pay zero.
Service Agreements for Air Conditioning Repair are Magical
Our customers have found that having a Service Agreement with Home-Tech helps them sleep a little better at night.  Worrying about expensive air conditioning breakdowns can certainly keep you up at night.  If you haven't considered the peace of mind a Service Agreement brings you might want to read some of the thoughts and reviews of many of our customers.