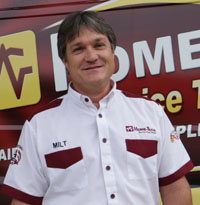 There is big news for the employee owners of Home-Tech in Sarasota and Manatee! A new Service Manager has been named to run the operation. Congratulations to Milt Bontrager. Our Members in these two counties will be excited to learn that one of their favorite technicians for many years is now supervising all of the repairs being made . . .  and not just performing theirs.
I got a chance to spend some time with Milt at our Member Appliance Center and service center at 5202 Lena Road and asked him a few questions. All of our Members are welcome to stop by our Member Appliance Center during weekly business hours and give Milt a big pat on the back. You can also visit our Facebook page and leave a comment for Milt.
Many Years with Home-Tech
So Milt this is a big promotion for you! Congratulations. How long have you been with Home-Tech?
It's been 9 and a half years for me. I remember my start day – February 15th.
Track Record
So what have you been doing all this time at Home-Tech? How did you start out?
I got hired to drive a delivery truck, but I only did that the first 3 days. I've been working out of the shop ever since as a technician. I can repair appliances, AC, plumbing and electrical breakdowns.
Work Experience
Where did you come by all of these talents?
I'm just naturally inclined for this. When I was in high school I attended Sarasota Vo-Tech. I was the first high school student to do the program at age 17. The instructors didn't think I could accomplish it but I can easily memorize things and did well. My Dad always brought home appliances that needed repair so at age 13 I started fixing them. I learned all of the major brands including GE, Whirlpool and Maytag. Later on I got my contractors license and have owned a swimming pool company. I built cutting edge pools for 17 years before I found Home-Tech.
Native of Sarasota
How long have you lived in the Sarasota and Bradenton area?
I was born in Sarasota. In 5th grade our family moved to Fruitville Road. I had paper routes. I attended McIntosh Middle School and Sarasota High School. My wife and I have raised three sons here. They are ages 26, 31, 33 now. My youngest and oldest still live here. They all have successful careers. My wife is from Illinois and is a closing agent for a local law firm.
Goals for the Home-Tech in Sarasota and Bradenton
So now that you are in this position what would you like to accomplish?
I've set a goal to double the size of our work force in the next 3 years. I also want to double the size of our customer base.
Fan of Our Service Agreements
You have sold a lot of Service Agreements over the years as a technician. What are a couple of your favorite things about them?
I'd have to say freedom and peace of mind. Our Members have no worries. They have a dependable company to call. I also like the flexibility of the Service Agreement. You can cater it to each individual, their home and their needs. I believe in it!
Your Staff
You've worked with this staff for a long time. What are you thoughts about them?
They are eager to help customers. Also they're very friendly and knowledgeable. I've had a long working relationship with them and am excited for that to continue.
Interesting Repairs
I'll bet you've seen so many things over the years. What is a repair job that stands out in your mind as being the most unusual?
One time I got sent on a service call to a farm out east. The customer had a pig that was able to open the refrigerator door. I repaired the door. Oh, and there was a washing machine on the front porch. You don't see that every day!
Favorites and Famous
Do you have a favorite Member? Have you ever met anyone famous?
My favorite Members were a sweet couple that always gave me cookies. The wife would always pinch my cheek and say, "You're so cute." Her husband was one of the top DJ's in America in the 1980's. You meet so many interesting people in this business. I've been in a few famous and historic properties here. One of them had a complete 1940's kitchen. That's a challenge when you are in the appliance repair business!
Interests Outside of Home-Tech
So what are you doing in your down time? What do you enjoy?
I love fishing.  And I'm into hydroponics gardening. I have a grape orchard and blueberry orchard too. I'm creative and I paint with oil and acrylics.