Do you want to save up to 30% on your heating and air conditioning costs? Well, Home-Tech air-conditioning experts can help with that. With Carrier's Infinity Control system, you can save on energy costs when compared to a conventional non-programmable thermostat. Add an Infinity Control to a compatible variable speed furnace or Infinity fan coil, and any central air conditioning or heat pump system. Enjoy longer heating and cooling cycles at lower fan speeds for a more consistent temperature throughout your home.
The Infinity System allows you to control your air conditioning  temperature, humidity, air quality, fan speed and ventilation. Set fan speeds, air filtration and temperatures with one convenient, easy-to-use control. It also maximizes air circulation and minimizes potential drafts or hot spots.
Infinity Control – The Bells and Whistles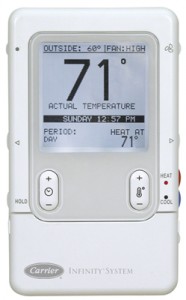 One control gives you complete system access to your furnace, fan coil or air conditioner and optional accessories such as humidifiers, ultraviolet lights and filtration products.
Intuitive on-screen prompts walk you through your programming options, even letting you save your changes or allowing you to return to previous settings.
Going out of town? Change your home comfort system settings to your preferred vacation set points.
View your furnace, air conditioner and indoor air quality performance at the touch of a button, 24-hours-a-day, seven-days-a-week.
Pop-up reminders let you know when it's time to change filters or alert you to regular servicing check-ups.
Adding the zoning system allows you to customize your comfort settings in up to eight different areas of your home, to eliminate temperature differences.
Home-Tech: Premium Carrier Authorized Dealer
Since 1981 Home-Tech has serviced millions and installed thousands of air conditioning systems throughout Fort Myers, Naples, Bonita Springs, Sanibel, Sarasota, and Bradenton.  Carrier has recognized Home Tech as a distinguished dealer in the area based on our company culture, the way we go to market, and the quality of our installations.  Carrier has selected us because of the extensive training, quality employees, and  the positive reputation we maintain in the communities we serve.
Call us today to speak with one of our Comfort Specialists.  1-800-800-8356. Or stop by one of our two Member Appliance Centers to see the Carrier line of products perform; one in Fort Myers and one in Lakewood Ranch.