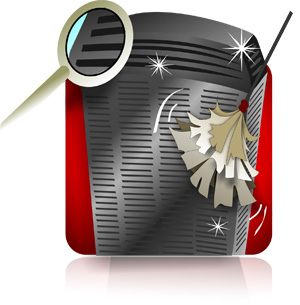 We all hear horror stories about the cheap $39.95 air conditioner Clean and Check deals. Then we hear about the little grandma that just wanted her AC system checked, and she wound up spending a fortune on a condenser unit. For those AC companies, it's about a commission.  The lady in our scenario only wanted to do an annual maintenance service on her air conditioner, and instead paid a lot more than she bargained for.
The In's and Out's of the Air Conditioner Clean and Check
Home-Tech stands up for ethical air conditioning service and repair practices. Here at Home-Tech, we pride ourselves on the high quality of our air conditioner clean and check services. With the hotter weather on our doorstep, keeping our customers cool and comfortable is at the core of our commitment to the communities we serve. While we can fix any brand of air conditioner, maintaining AC units is of the utmost importance.
The Air Conditioner Clean and Check LIST
Did you know that other companies don't do all of the items on the list below?  They claim to, but skip over some of the most important checkpoints of the clean and check process. Home-Tech completes every item on the AC Clean and Check checklist, and we provide you with a full write-up of your system's components and its efficiency. Here is what we do:
First, we ask how your AC system is functioning, and if something is of concern, we make sure to address it during your Clean and Check.
Initially, we change the air conditioner filter
Then we check the thermostat for calibration settings
Next we examine the evaporator coil, check it and then clean it
The drain line is flushed and an algaecide tablet is added to prevent algae build-up in your drain
The temperature difference from the input and output from your air handler is compared, revealing the efficiency level of your air conditioning system
We then check the condenser unit, examining the running pressures, including the heat transfers for the difference in temperatures, as well as the power consumption of the unit
Next, all electrical components and connections are checked
Cleaning and checking of the condenser coil is then completed
 Then we check the heating system to make sure it is functioning properly, assuring it can reverse cycle
The Indoor Comfort Specialist then hands you the Indoor Comfort System Checklist informing you of the overall system condition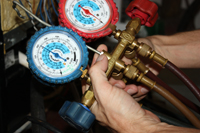 Schedule Today
Now that you know what we do and how we do it, keep Home-Tech in mind for your air conditioning maintenance needs. Home-Tech is available seven days a week and provides service by a qualified, NATE-certified, friendly technician.
For advice from company experts on the proper maintenance of heating and cooling systems and major appliances, schedule online or call 1-800-800-8356 to schedule an appointment or learn more about Home-Tech's Service Agreements for air conditioning repair.