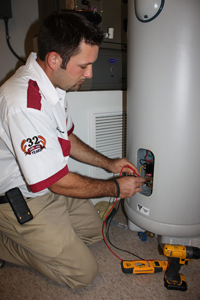 Having your pool or water heater at the right temperature is important to you, and therefore, it is important to us. Home-Tech will go out of our way to repair your appliance needs. What is great about us, is that we repair ALL BRANDS of appliances of pool heat pumps and water heaters, not just a select few like our competitors.
Water Heater Repair When You Need It
We pride ourselves on being there for you during your time of need, especially when it comes to a malfunctioning appliance. We feel for you when you call us and understand that you are in need of fast, reliable and thorough appliance repair. Home-Tech provides electric pool heat pump and water heater repair service when you need it.
Not Freezing . . . Not Scalding
No one enjoys a freezing cold or scalding hot shower. Proper water temperature is a luxury we often take for granted, until we don't have it. And we want you to have what you want. Let us help you with your water temperature issues, and make sure your water heater or pool heat pump provides you the optimum temperature you desire.
Do you always get the cold shower?
In a full household, getting the cold shower means you may have a water heater that is too small for your needs. We have several water heater options in our showroom, and can assist with selecting the right size for your needs. If you are worried about an aging hot water heater, have it checked annually. Routine maintenance on this important appliance is not something home owners think about until its too late.  That's why Home-Tech has emergency or scheduled appliance repair service when you need it most.
Emergency Service 7 Days a Week
We offer fast, emergency service 7 days a week.  No matter what type of water heater you have, our technicians can determine the cause of the problem and come up with a solution. Be sure to ask how you can get $100 off your first service call with a purchase of our service agreement. Call us at 800-800-8356 or Request Service here. Connect with us on Facebook or Twitter, or come into one of our two Member Appliance Centers: Fort Myers and Sarasota.