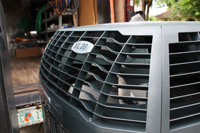 "Nothing Stops a Trane" is the tagline synonymous with Trane air conditioners, but their newest campaign truly tests the limits of its equipment. This time they went with a Myth Busters type of theme, asking its consumers and the marketplace this question: "Just how hard is it to stop a Trane?"  Judging by these videos, it's extremely difficult.
Are Trane Air Conditioners "Unstoppable?"
The ad agency, Carmichael Lynch, and Trane's marketing/branding masterminds have turned this series called "Unstoppable" into a viral hit. They have a set of serious hits on their hands – commercials that showcase the challenge of elements like fire, explosives and sheer mass against Trane's air conditioning equipment. In an empty desert, two real Trane engineers are shown setting up these explosives and action-film worthy tests.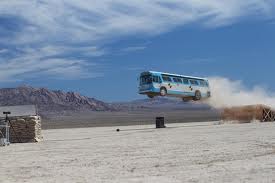 The first video, Projectiles, has a baseball pitching machine throwing balls at the AC, while the second technician makes one rigged with C4, and attempts to blow up the Trane. The second video is, Heck or High Water has a Trane unit in a swimming pool. The final installment, Nature's Wrath, has the testers setting up the unit to be struck by lightning.
The commercials, plus their Behind the Scenes video can be viewed on Trane's YouTube Channel.
The Trane Station
In all of the videos, the Trane does not survive, but, rather it speaks to the honesty and straightforwardness of  Trane as a company.  Their message was simple – it would take a speeding bus, lurching 30 feet into the air, crashing down upon one of their air conditioners to destroy it. The desired outcome of these ads was to speak to the consumer who, "doesn't consider what brand of furnace or air conditioning unit they're going to buy until their current unit is broken. It's kind of an important thing but it only comes once every 15 years," (Marketing Daily).
Home-Tech & Trane Air Conditioners – Good Boys with Tough AC Toys
Since 1982, Home-Tech has been a proud Trane Air Conditioning Dealer. Home-Tech is officially designated a Trane Comfort Specialist because we meet Trane's stringent standards and demonstrate a commitment to customer satisfaction and continuing education. In addition, we are the top XLi dealer, Trane's premium line, for all Trane retailers south of Tampa. For the last 20 years, we have remained a top 10 seller of Trane and top 10 seller of all Trane equipment.
Come into one of our showrooms to see and feel the Trane difference.  We have LIVE working models in both the Ft. Myers and Lakewood Ranch locations. Our trained Comfort Specialists can assist and help you find the right Trane air conditioning system for your home.  We are proud to sell such a durable and "unstoppable" product line.
Make Your AC Unit Unstoppable
As a reminder, we service ALL BRANDS of AC. Trane air conditioners are always highly recommended, but there's an AC system for everyone. You want to add long life to your ac system? Get a Clean and Check to keep it in top running condition.  Also consider a Home-Tech Gold Service Agreement to keep your air conditioning and all of your other appliances in working order.