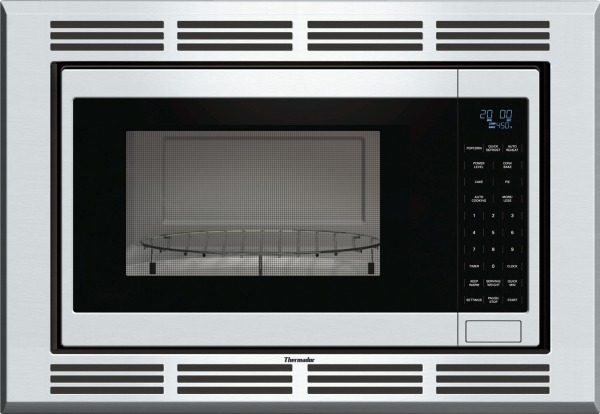 Many American women hit the theaters to enjoy the antics and "cooking up of hot, steamy fun", that was Magic Mike. Channing Tatum, Alex Pettyfer, Matt Bomer, Matthew McConaughey and Joe Manganiello all stole the hearts of the mainly female crowds. Well, at Home-Tech we appreciate our female customers having a good time and we have appliances women love.
Therefore, we introduce to you the Thermador Stainless Steel Convection Microwave MES. Thermador already describes this appliance as "chiseled, bold, sleek looking." If you can't get your hands on Magic Mike, you can surely have a Magic Mike-rowave.  Yes, we know it's not the same, but trust us.  You are really going to like it.
Cook with Hot Air Circulation
With temperatures soaring around the nation and female hearts swooning during certain dance numbers during the movie, it was HOT in the theater and there wasn't much air circulation.  So what's the secret to this convection appliance?  Hot air circulation is a key to the convection microwave because circulating hot air ensures a more even heating and faster cooking results without any loss of flavor.
Keep Foods Warm for 30 Minutes After Cooking
Appliances women love include convenience and innovation. We are sure that many women found that they were still feeling warm 30 minutes after Magic Mike was over.  Let's apply that beautiful concept to microwave cooking. For instance, let's say you were talking recapping Magic Mike with your friends over the phone, and forgot that you had heated up your lunch in your microwave. Obviously, this conversation is too juicy to end it so soon, and your lunch remains heated in microwave. Your lunch will still be nice and warm when you want it.
10 Power Levels
With Magic Mike grossing over $39 million it's first weekend, it is obvious that American women like to go out for girls night, spend money and have fun. We like powerful appliances and like the never ending abs of the men in this movie, this microwave packs a ton of power when you need it most.  10 levels of power provides flexibility and the ultimate control in your kitchen. Let's see how your next girls night can come together quickly cooking in your Thermador Convection MES. You'll understand why we put this on the list of appliances women love.
Quick Defrost By Weight
Magic Mike's opening scene got the ladies' attention and temperatures rising very quickly. We won't spoil it for anyone who hasn't seen it yet. Getting your foods defrosted quickly is really important as well. There are no complicated formulas to enter into the keypad. You can defrost foods such as meat, poultry and seafood simply by entering the weight.  It is a lot easier to defrost frozen food than it is to explain to your husband why you have to go and see this movie for the third time.
Smart Sensor Senses What You Need
The cast of Magic Mike worked hard to deliver spectacular dance routines for the audience.  It's like they just knew what women would want to enjoy on a night out. Not everyone is lucky enough in life to have someone "sensing just what you need". At least your appliances can do it! Seriously, the smart sensing technology knows how to heat any food item perfectly. It is PMS and blonde-moment proof! These appliances use humidity sensing to achieve perfect results with a minimal amount of programming. Even your man can do it!
May All Your Appliance Fantasies Come True
While having our own Magic Mike's may be far fetched, having your ideal kitchen is not. Have fun with it.  Select appliances that are sexy, bold and fun.  Let the food and surroundings inspire more steamy evenings. Go ahead, have an affair with your kitchen. After all, aren't you worth it?
Home-Tech can help. We don't only have appliances women love. Men seem to be a fan of our products, as well! As Thermador dealers, we can help you select the perfect appliances.  You can call us at 1-800-800-8356 or see and lay hands on these gorgeous appliances in person in one of our two Member Appliance Centers. Or, you can shop in the privacy of your own home in our Online Appliance Store.