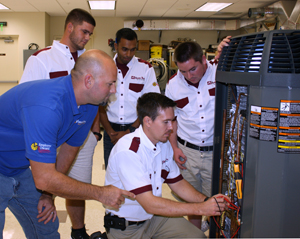 What does NATE certified mean? Home-Tech trains our technicians to be uniquely qualified to install and service your air-conditioning system so it performs flawlessly and delivers cool, comfortable air throughout your home.
Education + Training = Customer Satisfaction
All of Home-Tech's air conditioning specialists are NATE certified (North American Technician Excellence), meaning they're among the most knowledgeable and experienced at installing and servicing high performance, precision-engineered heating and cooling systems. With Home-Tech, you know you're working with someone who is committed to your total satisfaction. It's simple. Home-Tech offers the best quality air-conditioning systems and we train our service technicians to be expert in servicing everything we sell.
What's NATE Certified Mean?
Our Training Manager Brian had this to say about Nate Certification. "A Nate Certified technician is serious about the job he or she is doing. Technicians that pursue a Nate Certification take the time and effort to learn more about their trade to become better at their careers. Learning and following Nate standards for service and installation can produce better quality work and fewer call backs. A company that advertises that it has Nate Certified technicians helps the customers know that there are knowledgeable and dedicated technicians working for that company. It gives customers assurances that they hired the right company for the job.
I believe it is very important for a technician to be Nate Certified because it not only helps the individual, it helps the company he or she works for and above all it helps the customer."
Learn more about NATE Certification. 

Does Training At Home-Tech Ever Stop?
We can tell you it doesn't. There are constant improvements to the technology in the equipment. If technicians do not continue learning they will be left behind. Home-Tech prides itself in our in-house training program which continues to equip our technicians with the skills needed to solve the problems they could face in your home.
Schedule Now
If you need an evaluation of your system or a repair, what are you waiting for? Go ahead and give us a call. 800-800-8356.