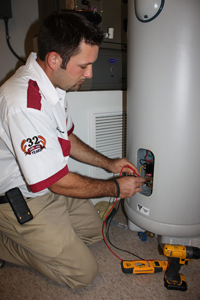 July 18, 2011
Re:  Services
Just wanted you to know how much we appreciate your service.
We started with you several years ago, in fact about ten years, and have never been disappointed in how you have taken care of any problems.
The last call we made was in regard to our water heater that wasn't heating.  When we talked with the lady who received our call we thought it would take several days to have the repair done.  Her response was, "We consider that an emergency so we'll have someone out there today!"  What a pleasant surprise that was, but then Home-Tech has shown us the best in the past so we shouldn't have been surprised.
We are particularly happy with the people who have worked on our appliances.  They have been very professional and have explained just what the problems were.
Thanks for being there for us.  It's comforting to know we have you to rely on.
Pat M-    Fort Myers, FL