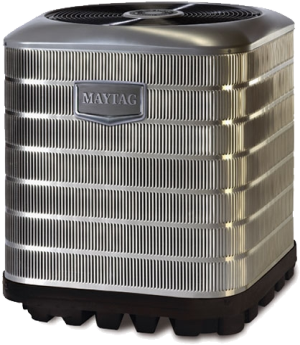 If you are seeking an air conditioning system that is powerful and efficient, than look no further than the Maytag M1200 iQ Drive.  Home-Tech only carries the best air conditioning products on the market, and we highly approve of the Maytag 1200 with iQ Drive.  With a 24.5 SEER rating, this system leads the way in comfort and performance.  Here are the technical specifications:
The Quietest Air Conditioning Available: Maytag iQ Drive air conditioners operate at the industry's lowest sound levels – down to 59 decibels.
Completely Unique: No other air conditioning system operates like an iQ Drive.  Its inverter-rotary technology constantly adjusts to exactly offset the cooling demands on the home.  This unit modulates from 40% to 118% of capacity.
Dehumidification Mode:  The Maytag iQ Drive runs longer at very low levels, it provides superior dehumidification for a more comfortable home.
Innovative Controller:  This air conditioner utilizes the iQ Drive controller to give you complete control over your indoor environment, including maintenance reminders, programmable comfort schedules and troubleshooting diagnostics.
Stainless Steel Jacket:  High degree of corrosion resistance.
Durable:  Top and control panel designed using galvanized steel with a polyester urethane finish.  The 950-hour salt spray finish is 1.5 mil thick and resists corrosion 50% better than standard finishes.
Earns our ecoLogic™ Seal:  The energy efficiency and high-end comfort features in this air conditioning system qualify for the Maytag ecoLogic™ green seal.
ENERGY STAR Most Efficient:  Awarded the ENERGY STAR Most Efficient designation in 2012.
The Latest Environmentally Friendly Refrigerant:  Non-ozone-depleting SmartCool 410 (R-410A) refrigerant.
Designed and Assembled in the U.S.A.:  Factory checked 144 times before being shipped.
Maytag M1200 is Dependable – Just Like Home-Tech
For years, Maytag has been delivering the most dependable air conditioning systems for homes.  Since every home has specific comfort issues, Maytag and Home-Tech have the right solution.  Whether your air conditioning problems are hot or cold spots, allergens or a little bit of everything, Home-Tech offers a worry-free system for reliable, total home comfort.  Maytag has a line of complete comfort products to balance temperature levels, clean the air, control humidity and more.
Home-Tech proudly carries Maytag air conditioning systems in our showrooms.  We honor Maytag's Worry-Free Limited Warranty and Dependability Promise that offers a standard, equivalent Maytag replacement guarantee if the compressor or heat exchanger fails within the first 12 years.
Who Needs the Maytag Man When You Have Home-Tech?
At Home-Tech, we only sell what we service.  Should you need assistance with your air conditioning during the first 12 years, Home-Tech's NATE Certified Tech Reps can repair your system and keep you cool.  To ensure that your air conditioning system is working at its best year round, consider Home-Tech's Gold Service Agreement.  It includes an annual clean and check, and covers any repairs that may be needed.
For more information about the Maytag M1200 with iQ Drive or other air conditioning systems, or to schedule an air conditioning repair service, call us at 800-800-8356. Not sure if you should replace your air conditioning system or not? Check out our YouTube video to learn about when it's time to get a new one!
Home-Tech, Service That Works!