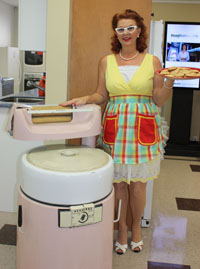 Today's new household appliances advancements are amazing! Do you remember when your washer had a wringer on it? Yes, back in the day the washing machines did not have any mechanism to remove the water from the clothing.  You had to physically run each piece through the wringer.  You've probably heard the phrase, "I feel like I've been put through the wringer."  Well now you know where that comes from.  One of our most relied upon appliances has made some serious headway since its hand-wringed days. I'm sure most housewives back then were thrilled too to be moving up from a bucket, creek and rock.
Household Appliances Advancements
Today's washing machines have all kinds of advanced technologies like:
AquaLux Wash System Advanced wash technology includes wash motions and bottom-vent steam options with superior cleaning performance.
Fast Wash Cycle Only 18 minutes to wash.Sure-2-Fit ® Capacity Washer Wash more in one load with our large capacity washer. Reversible washer doors allows for any laundry room to be a customizable space.
IQ-Touch™ Controls For those who like to have their options always visible on their washer, the IQ-Touch™ control panel displays all of your options, at all times.
A "My Favorite" Setting A setting you can customize to meet your needs, so the option you want is available at the touch of a button.
Perfect Balance ® System No other washer has less vibration. State-of-the-art technology keeps even over-sized wash loads balanced for smooth, quiet operation. Perfect for installation upstairs – even near bedrooms.
Luxury-Design ® Lighting Our design interior lighting provides visibility inside your washer, so you can conveniently find any article of clothing.
Your Clothes Got Out More Often Than You Did
There wasn't a household on the block that didn't have a full fledged laundry line with clothes drying on it almost every day.  There is nothing quite like the smell of freshly hung clothes.  There are still some people today that prefer to hang their sheets out to dry, but most now rely on one of their favorite appliances, the dryer, and wonderful smelling fabric sheets to try to duplicate that fresh smell.
The technologies in today's dryers are incredible and hard to now live without:
7.4 Cu. Ft. Capacity in the Whirlpool Cabrio High Efficiency Electric Dryer
Wrinkle Shield™ Plus Option (up to 90 Minutes): Tumbles the dryer every 5 minutes after the cycle is complete to help prevent wrinkles from setting into clean, dry fabrics. The intermittent tumbling continues for the designated time or until the door is opened.
AccuDry™ Drying System:  Measures moisture and temperature levels to automatically stop the cycle when the load is dry, helping to conserve up to 10% energy.
10 Automatic Cycles
4 Temperature Settings
Your Refrigerator Didn't Make Ice – You Had to Put the Ice In It
Before electricity, if you wanted to keep foods cold you used an ice box which held a huge piece of ice delivered to you by the ice man.  You had to empty a drip pan underneath the appliance every day and get an ice delivery about once a week.  While this may sound archaic to our younger readers who grew up with an ice maker in their refrigerator, for the latter, this was how it used to be.
We've come a long way, baby, with refrigeration, freezers, ice makers, and wine bars since then.  Ice makers, for the most part, are standard in the vast majority of refrigerator/freezer combos.  Today, we can enjoy features like this on the KitchenAid Architect II Series Side by Side Refrigerator:
AquaSense™ In-Door-Ice® ice dispensing system has an ice bucket located in the door to increase freezer capacity
Automatic ice maker ensures a constant supply of ice on hand at all times
FreshChill™ Temperature Management System
AquaSense™ Base-Grille Filtration System – filtered by PuR® – reduces water impurities and saves storage space
Advanced Electronic Through-the Door Ice & Water Dispenser
On demand pulsed defrost system helps preserve the taste of frozen foods by minimizing temperature swings
Household Appliances Advancements are Better Than The Past!
Change is inevitable and in the world of home appliances, change is a very good thing. With all of the advancements in appliances, it has provided us with more time to focus on the good life, instead of on the daily chores like laundry and cooking.  Should you have older appliances, in need of repair, you can also count on Home-Tech and our Tech Reps to repair your refrigerator, washer or dryer.  We repair all brands. Call us at 800-800-8356 or schedule online. 
While its tough to keep up with the changes from brand to brand and model to model, you can rely on the Appliance Experts at Home-Tech to guide you through them.  Our staff can help you select the right appliances for your home and needs.   Stop into one of our two Member Appliance Centers in Southwest Florida to take a closer look.