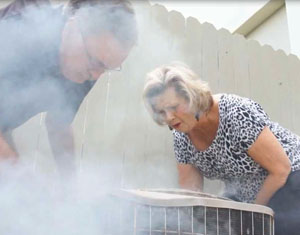 What do you do when your air conditioner has broken for the last time? Look to Home-Tech to help you find the right air conditioning replacement system for your home.
Comfort Specialists Make Air Conditioning Replacement Easy
It's hot. We know it. But, being without air conditioning during the hot summer months can be unbearable. So, you did the right thing and called Home-Tech to purchase an air conditioning replacement system. You did your research and found that we sell air conditioning systems from Carrier, Trane, Bryant, Rheem and more, and can repair any brand!
You already know our technicians are highly trained, drug tested and background check. There's no need to worry that your technician doesn't know what they're doing when they're in your home. An installation with Home-Tech is a headache free day where you'll learn lots about the product they're installing.
Our Goals for Your Air Conditioning Replacement
To provide comfort
To solve your cooling and heating problems
To educate you, our customer 
To provide you with all the information you need
To provide you with a list of warning signs that you can recognize, so you can identify when a problem begins
And to educate you about necessary maintenance. We want you to get the most out of your air conditioning system replacement.
A Home Visit from Home-Tech
These are some things you can expect from a qualified heating and air conditioning contractor like Home-Tech to address when you're purchasing a new system:
Calculating energy savings with a new system. You may find that investing in a new energy-efficient system will yield monthly savings greater than money earned on a CD investment or savings account.
Educating you about the system and equipment (provide all instructions and manufacturer's documents, including warranties).
Selecting the type of system and equipment (plus operating and safety controls) that are compatible with the architecture of your home, fuel availability, fuel costs, the space available for equipment and duct runs, appearance issues and project costs.
Using the proper industry manual procedures and manufacturer's data to select, size and place equipment, supply outlets, ducts and returns.
Performing load or sizing calculations for each room and the load on the central unit(s). New homes are better insulated and do not have the same capacity requirements as older homes. Over-sizing a unit can contribute to uncomfortable temperatures and inefficient performance.
Disposing of old equipment.
Installing the refrigerant lines.
Installing to local, state and federal codes and utility regulations.
Installing the indoor and outdoor equipment. A split system is the most common installation.
Installing supply air outlets and returns if they do not exist or are inadequate.
Installing duct runs (must be sealed and insulated to R-6 or R-8 if in unconditioned space) if they do not exist or are inadequate.
Installing control system(s), such as thermostats and/or zoning controls.
Installing furnace gas piping and vent (if applicable).
Measuring and adjusting air flow at the unit and at the rooms (balancing work).
Checking refrigerant charge.
Charging the refrigerant system.
Checking all control cycles.
Checking all power supplies, connections, fuel trains and vents.
The Air Conditioning Company You Can Trust
Since 1981, Home-Tech has been serving Lee, Collier, Charlotte, Sarasota and Manatee counties. Whether it is for a replacement air conditioning system, air conditioning repair, appliance sales or repair, Home-Tech has you covered. Consider purchasing one of our Service Agreements to protect all of your major home appliances, including your air conditioner. We are here to help, when you need us. We truly provide "Service That Works." To schedule service or to set up a site visit with a Comfort Specialist call our AC Hotline (888) 851-7771.
Check out our YouTube Channel here.