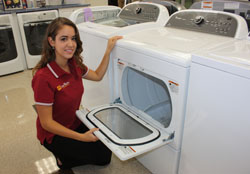 We all want our appliances to last forever, but in reality, sometimes they need a little TLC and appliance repair to keep them running at their best.
Appliance Lifespans
According to our Appliance Repair experts here at Home-Tech, these are the average lifespans of your major home appliances with proper maintenance and repair:
Refrigerator: 10 – 15 years
Dishwasher: 10 years
Oven/Range/Cook top: 10 – 20 years
Microwave: 10 years
Washer: 10 – 15 years
Dryer: 10 – 15 years
Helpful Tips and Tricks
The website, dailyfinance.com, had these tips for consumer to consider before repairing or replacing a home appliance:
Is it really broken? Check the troubleshooting section of the unit's instruction manual for the most common problems and solutions.
Have you had trouble with this appliance before? It might be worth fixing instead of replacing with something unproven.
How much will it cost to repair the appliance?
What would a similar appliance cost if purchased new?
Are there any hidden costs to purchase (removal, installation, disposal, tax, etc.)?
What energy savings will I get with the new appliance? Will they offset the cost of a new appliance vs. repair?
What tax credits are available for purchasing an energy efficient appliance? Will they offset the cost of a new appliance vs. repair?
First Call's On Us!
How long appliances last is up to how long you want to keep it and repair it. Home-Tech is currently offering to cover your first repair, when you purchase a Gold Service Agreement at the time of your repair. A Gold Service Agreement covers all of your major home appliances and their repairs, without a deductible. Imagine, peace of mind and never having to worry about appliance repair again!  
Appliance Repair Made Easy
We take the guess work out of appliance repair. Since 1981, Home-Tech has been the premier appliance repair company of choice for Lee, Collier, Charlotte, Sarasota and Manatee counties. Why do customers call us time and time again? That is easy, because we repair ALL brands. From Whirlpool to Bosch, Thermador to Viking, KitchenAid to Amana, and everything in between, we can fix your appliances right the first time.
Trust in our appliance repair expertise and you can join the thousands of SW Florida Members who call Home-Tech every time. You can schedule online or call to speak with a local customer service representative at 800-800-8356.