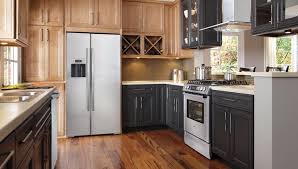 Shopping for appliances just got more affordable. Bosch is offering 10% off rebates on eligible kitchen packages. So yeah, you can see why our customers are going bonkers for Bosch appliance rebates!
It's Rebate Season on Appliances
We know shopping for kitchen appliances can be overwhelming. Stop price shopping and start rebate shopping! A great place to start is with Bosch appliances at the Home-Tech Member Appliance Centers. Check out the great deals and big rebates Bosch is offering:
Bosch Benchmark The More You Buy The Bigger The Rebate
Receive a 10% rebate with purchase of qualifying Bosch Appliances Kitchen Packages. Plus receive up to $850 in additional bonuses with qualifying purchases. Rebate form must be postmarked by 4/30/2017. It is the sole responsibility of the customer to obtain, complete and mail in the rebate form and all required documentation by the postmark date. Rebate information provided by this site does not constitute an offer of a rebate. Our rebate information may be inaccurate or incomplete. Please obtain a copy of the actual rebate form for complete details and any applicable limitations. If you have any questions, please do not hesitate to give us a call.
Bosch Appliances Make Headlines
With a commitment to engineering high-quality dishwashers that exceed customer expectations, Bosch's dishwashers earned the highest ranking in overall customer satisfaction with the highest score in performance and reliability. Driven by a design philosophy centered on sleek, modern appliances that are both functional and aesthetically appealing, a tremendous emphasis is devoted to the design and quality of all Bosch dishwashers.  In fact, each Bosch dishwasher is confirmed by 485 factory checks and guaranteed by a lifetime warranty against tub rust-through.
Appliances from Bosch are Energy Efficient
Bosch's commitment to appliance efficiency includes being the only U.S. appliance manufacturer with 100 percent of its major appliances ENERGY STAR qualified – that is 48 dishwasher, clothes washer and refrigerator models by Bosch for appliance shoppers to choose from. The ENERGY STAR Sustained Excellence Award also recognizes Bosch engineering accomplishments including:
Exceeding federal energy standards in dishwashers by an average of 38% and up to 97%;
Offering the most water-efficient dishwasher in the US – the 800 Plus uses as little as 1.57 gallons of water per cycle;
Improving the energy use of all its 27" washers. With the launch of Vision, Bosch's most efficient 27" washer model achieved an energy use of just 120 kWh/year;
Reducing energy consumption in its manufacturing facilities by 14 percent since 2005.
Selling and Servicing Bosch Appliances
Home-Tech proudly sells and services Bosch appliances. Not only can we fix Bosch, we can fix any brand of appliances. The time is now to purchase, replace or repair the Bosch in your home. Shop our online appliance store day or night.  Have questions or need to schedule service? Call 800-800-8356.