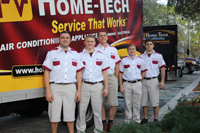 "We want you to know how pleased we are with the new whole house air conditioning system which Home-Tech installed recently.
Functionally it is working superbly.  Temperature throughout the house is uniform, humidity is totally under control and all the rooms are more comfortable than ever before with the old equipment.
We are equally impressed with all of Home-Tech's personnel.  From your clear explanation of all the options and manufacturers available, to the two installers who did an outstanding job to personnel who came later to fine-tune and check the installation, everyone was highly professional and knowledgeable.  The job was completed on time and the worksite was left clean and in good order.
In our opinion, Home-Tech more than lives up to its slogan, "Service That Works", and we look forward to doing business with Home-Tech in the future.  We heartily recommend your company to prospective customers.
Thank you again.  Please share our thoughts and good wishes with everyone involved with our job."
Cordially –
Paul & Paula S –     Fort Myers, FL