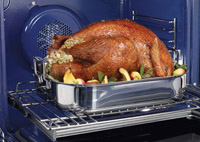 Want an easier and faster way to tackle the turkey this thanksgiving? Is your bird giving you the gobble wobbles? We aim to provide you with the best possible appliances to do so, which is why we are recommending the KitchenAid 30-In. Width Freestanding 5 Elements Electric Double Oven Convection Range. At Home-Tech, we know how important your Thanksgiving feast is to you and to your entire family.
Butterfly your Turkey and Take Hours Off Cooking Time
Get this time saving tip! Butterflying your turkey significantly cuts down on roasting time in your range, which means moister meat and more time for you to enjoy your family. You'll have more time to spend with family and perfect your other 10 awesome Thanksgiving dishes. Your turkey, prepared this way will taste incredible in our Architect Series II range.  Here is an amazing butterflied turkey recipe from our friend, The Skinny Chef. 
Ingredients
1 10-pound turkey, giblets and neck removed, well rinsed
2 tablespoons olive oil, plus more to taste
2 tablespoons lemon peel (from one medium lemon), chopped
2 tablespoons fresh rosemary leaves, chopped
1/2 teaspoon salt, plus more to taste
Directions
Preheat the oven to 400°F. Place the turkey on a cutting board, breast side down. With a pair of poultry shears, start to butterfly the turkey, by snipping about 1/2 inch to either side of the backbone. Press open the turkey and place it cavity-side-down on a large baking tray with sides. Discard the backbone or use it to make turkey stock.
Using your finger tips, loosen the breast meat from the skin to make space for the herb mix. Place the olive oil, lemon peel, rosemary, and salt in a small bowl and mix to combine. Using a teaspoon, spoon the herb mixture in between the skin and the meat of the turkey breast.
Salt the outside skin of the turkey and drizzle with olive oil to taste. Roast the turkey 45 minutes. Decrease the heat to 350°F and roast for about 2 1/2 hours more, adding a little water to the baking pan (so the drippings don't burn) ever 30 minutes until the turkey is cooked through. To test for doneness, place an instant read thermometer between the thigh and the joint of the turkey leg. The thermometer should read between 180°F and 185°F. Rest 15 minutes before slicing to be sure the juices redistribute, then slice and serve immediately.
Ruling The Range
With two ovens that combine for the industry's largest capacity,  this double oven range allows you to cook several dishes simultaneously, even at different temperatures. You know what this means, all of the favorite dishes like green bean casserole and candied sweet potatoes can cook in one oven, while the turkey is roasting in the other! The cooking surface offers flexibility with five elements and controls that respond to the touch, so the gravy and other items can stay warm for those who want second helpings.
Range Features:
10″ 3200-watt element accommodates high-temperature cooking methods like rapid boiling and searing
6.7 cu. ft. combined upper and lower oven capacities provide more room to cook multiple dishes simultaneously
EasyConvect™ Time and Temperature Conversion System takes the guesswork out of convection cooking
Even-Heat™ True Convection System provides consistent heating and even cooking on both lower oven racks
The oven's slow cook function provides superb slow cooking without taking up valuable counter space
Be Thankful for Appliances from Home-Tech
In need of new appliances or a range for the upcoming holiday season? Come stop by one of our Home-Tech showrooms so you can create your own seasonal culinary masterpieces. Stop by often to get the most out of our holiday deals! Have questions, call one of our Appliance Specialists at 800-800-8356.