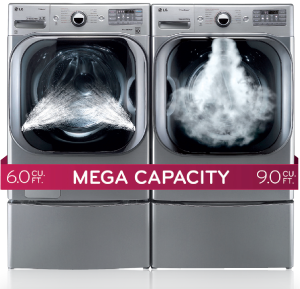 Preparing for holiday guests can be a hassle. Don't be a grinch about it, and plan far enough in advance. Make the job easier by getting all the towels and sheets done ahead of time, and with the added space of a mega capacity washer and dryer, you can do more laundry in less time. We recommend the LG WM8000HVA mega capacity washer and the DLEX8000V mega capacity dryer, both with steam technology. This LG set is currently on sale at Home-Tech!
LG 5.1 cu.ft. Mega Capacity Washer, TurboWasher, with Steam Technology
5.1 cu. ft. Mega Capacity World Record! – Towers of towels, piles of sweatshirts, and a mountain of jeans. Go for it. The 5.1 cu. ft. Mega Capacity washer lets you do more laundry in fewer loads. That's time saved and sore backs avoided.
TurboWash Technology allows you to save 20 minutes on larger loads, with outstanding cleaning performance!
ENERGY STAR® Most Efficient 2012 designation in 2012.
Steam Technology deeply penetrates fabrics for gentle cleaning power.
ColdWash technology uses cold water and enhanced washing motions to penetrate deep into fabrics, giving you cold water savings with warm water performance.
6Motion™ Technology – Each wash cycle combines up to 6 different wash motions to provide a revolutionary cleaning experience.
Allergiene™ Cycle – Give allergens the boot by using the power of steam to gently remove over 95% of common household allergens, like dust mites and pet dander from even the most delicate fabrics.
SpeedWash™ Cycle can have clothes clean and fresh in just 15 minutes.
LG 9.0 cu. ft. Mega Capacity Dryer with Steam Technology
9.0 cu. ft. Mega Capacity Washer – Do laundry a little less often. This dryer handles really large loads, saving you time and energy.
TrueSteam™ Technology generates real steam to reduce wrinkles and odors, and practically eliminates the need for ironing.
The SteamFresh Cycle reduces wrinkles in up to five garments at a time.
SpotClean Cycle – Got a small stain or spot? LG's SpotClean Cycle is designed to use the power of steam to effectively remove stains and freshen clothes right in the dryer.
Safely Sanitizes Items Marked as Non-Washable – You probably wish you could clean your throw pillows or children's toys. It uses steam to safely sanitize items marked as non-washable.
Measures Moisture Levels – Automatically Adjusts Drying Time Based on Moisture Levels
NeveRust™ Stainless Steel Drum is built to keep drying your clothes more efficiently without showing wear and tear.
ReduceStatic Option virtually eliminates static cling.
EasyIron Option lightly moistens clothes to make ironing easier and more efficient.
A More Welcoming Home for the Holidays
Let Home-Tech help you create the kind of home that WOWs your guests this holiday. We can make your holiday shopping easier. Whether it's a bright and shiny stainless steel kitchen set or a super sized washer and dryer, we can help. Spread the holiday cheer throughout your home and spruce up those appliances. If something is broken, just call Home-Tech for swift and efficient appliance repair. And best of all, we repair ALL BRANDS. Call today to schedule an appointment, shop our online appliance store, or try before you buy at any of our Appliance Showrooms. 800-800-8356.