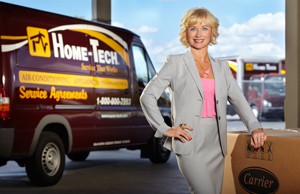 Name:  Sonya Sawyer
Position: Chief Financial Officer
How many years have you been a Home-Tech employee? 14
What other positions have you held? 
Since graduating college, I have been the Chief Financial Officer for Home-Tech. Back in high school I used to do some filing and invoicing for the company. I just knew Home-Tech was always in the cards for me.
Tell us about the Accounting Department. How difficult is it managing the funds for Home-Tech?
We are a cash flow company, so the management of our accounting is not that difficult. But, what is difficult is the current process of paper invoicing, and not having it automated.
What was it like growing up alongside the growth of Home-Tech?   
Dad was busy 24-7 and doing everything for Home-Tech. My sister, Melanie, and I could expect for our parents to be late picking us up from school or for school-related events. But other than that, we were a normal working family. We didn't do too many vacations as a family back then. But my parents never stopped or held us back from doing anything or pursuing new interests.
What is your biggest pet peeve?
The biggie for me are employees not looking over their time sheets and employees not clocking in correctly. Outside of Home-Tech, slow drivers really annoy me. Another big pet peeve are people who feel they are entitled or two-faced.
What is your personal motto or unique approach to being a successful manager?
Listening is key. You need to be a good listener and trust the people around you. If you don't have trust, then they shouldn't be working for you.
Be approachable. An open door policy is best. Always have your door open and be accessible to those who need you.
How many organizations are you involved with in the community outside of Home-Tech? And which ones are they?
Best piece of advise you ever received?
Be true to yourself.
Tell us a secret?  
I am a ball room dancer. I am now training for the Millennium competition this June in Tampa. I compete in the International Latin and American Smooth dances.