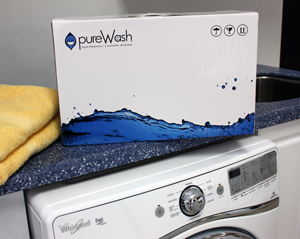 Do you have sensitive skin or are allergic to the dyes and additives in laundry detergent? Can you imagine a world without the need for chlorine bleach? How about saving energy use, does that excite you?
Well, let us introduce pureWash, an environmentally friendly appliance designed to work with your washing machine. It adds enhanced oxygen and Photo Catalytic Oxidizers to the cold water supply. To put it simply, water treated by pureWash aids in cleaning laundry and killing bacteria without leaving residual detergent in the fabric.
Get dazzling-fresh laundry without detergents, fabric softener, or even hot water
The pureWash laundry purifier uses the same technology previously available only to hospitals, hotels, and commercial laundromats for over a decade
Produce sparkling clean laundry without any chemicals or additives using cold water and your existing washing machine
Reduce your energy consumption per wash load by 80%
Never again have to buy detergent or fabric softener
PureWash consumes just 36 watts of electricity to power away dirt and grime
Wowing your Washing Machine with pureWash
Home-Tech recommends that you match the correct pureWash model to your  washing machine. There are some HE or high efficiency washing machines that fill faster than others and therefore will need a "high flow" model.  After having the proper model installed, your washing machine will take on a new life. The only use you will  have for detergent will be for spot cleaning extremely soiled or stained items. Other than that, this appliance will do all the dirty work for you.
Once the pureWash is properly installed by Home-Tech's appliance technicians, you simply operate your washing machine following the manufacturer's instructions. pureWash is designed to automatically turn on as soon as the washer demands water for the the wash cycle and again for any rinse cycles. The viewing window glows blue and you can see the production of enhanced oxidation bubbles in the tube through the window, so you can see it work!
Wishing for More Out of Your Washer?
Has your washing machine's performance been spottier than your polka dot skirt? It may be time for a check up with Home-Tech. If you are in the market for a new washing machine shop our online appliance store for all the best brands and most popular models. Our appliance experts are available to answer any of your questions about appliances or even advice on getting the cleanest load possible out of your current washing machine. Call us anytime at 800-800-8356 to schedule service or to speak with Home-Tech.