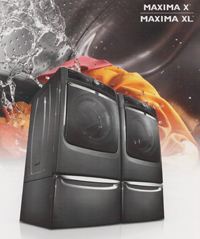 The Maytag Maxima XL is truly something special. What if you had a washing machine that practically did laundry all by itself? Wouldn't it be awesome to get home late from your son's baseball game, throw his dirty uniform in the washer and then be able to completely forget about it and go to bed? When you got up in the morning you could pull it out of the washer and not only would it be spotless, it's also dry and ready for his game that day.
This isn't a fantasy. It's reality with the new Maytag Maxima XL's new Overnight Wash & Dry cycle. Pretty slick, huh? If your life is busy, too busy to hassle with laundry, you are going to love this new Maxima XL washer. You should head on over to one of Home-Tech's showrooms to check this out.
Fresh Smelling Clothing
The new Fresh Hold® Option with Dynamic Venting is new technology in the Maxima XL washer keeps your clothing fresh and allows you to start drying right in the washer. Don't you hate it when your clothes have sat in the washer for awhile and get that weird smell? With the Fresh Hold® option the washer keeps circulating air for up to 12 hours after the wash cycle ends.
There is a very quiet and efficient fan in the back of the washer that continues to circulate fresh air. This means no more odors and with intermittent tumbling every hour it keeps everything fresh and helps keep wrinkles from setting in. This feature costs only pennies per cycle.
Just Enough Detergent
Have you ever wondered how much detergent to use? You don't have to anymore. The Maytag Maxima XL dispenses detergent automatically. You can just fill it up and forget about it for the next 12 loads of laundry. It allows you select detergent concentration and water hardness. It also ensures detergent is dispensed at the right time to penetrate fabrics and virtually eliminate pre-rinsing. And it provides better cleaning using less detergent.
Maytag Maxima's Power Spray Technology
This sprays the perfect amount of water and detergent directly onto clothing to start instantly cleaning soils and stains.
PowerWash Cycle
This 3 step process enables the best cleaning in the industry. There is an extended wash sequence that keeps the detergent and water continuously moving through your clothing to help loosen stains and ground in dirt. This washer has a built in water heater which allows you to wash at higher temperatures for stubborn stains. On select models steam can enhance the cleaning process as well. The thorough rinse with clean water removes any final dirt and detergent.
25 Towels In One Load!
With 4.1 Cu Ft capacity, the Maxima XL washer is rated to wash up to 24 pounds of clothing. Most of our customers wash a typical large load at 13 pounds. So you see, this washer capacity really has all of your laundry needs covered. Many of you prefer to wash your towels on the cold cycle to keep the color fresh. Of course if you need your towels sanitized use the handy sanitize cycle which washes at a higher temperature level.
Ready to Take the "Chore" Out of Laundry?
Home-Tech's appliance experts are on hand in one of our two showrooms to demonstrate this product for you. You can also shop online day or night on our appliance website. See the details of the Maxima XL washer now. You can always call Home-Tech to speak to us at 1-800-800-8356.