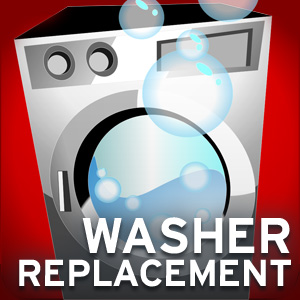 Anytime an appliance needs a repair, it's a drag, but when you need a washer repair, it can be more than a drag – it can turn into an exhausting mess.
Washer Repair – Ugly Scenarios
We've all had it happen – when you put in a load of dirty clothes and the washer fills up with water, and then – nothing. It just sits there and you're left with a washer tub full of dirty water and soaked clothes. The next thing you know, you're bailing out the water with the biggest bucket in your kitchen and transferring the heavy, wet load of laundry to the bathtub. Or, there's that moment when you've got a big load of towels in the washer and suddenly you hear a disturbingly loud, violent thumping during the spin cycle – the next thing you know, your washer literally throws in the towel and gives up.
There's also the famous moment when you walk into your laundry room to find suds all over the floor and discover an overflowing machine – or the time the washer only fills up a little bit with water and stops – then you come home from work to find a broken washer filled with smelly, damp clothes.
Out with the Old – In With the New
When it comes to washer repair, Home-Tech can help. But, what if your old washer is simply on its last cycle and it's time to replace it? If you're considering placing Old Bessie out to Dead Appliance Pasture, we'd love for you to consider one of our favorite models, the GE Top Load Washer.
These state-of-the-art top loading machines care for your clothes like no other and boasts a variety of features.
You won't miss that loud banging with this machine that has up to 46% more room for loads than other models.
And this washer embraces the millennium with WiFi – that means you can use your smart phone to check the progress on cycles – from anywhere.
You won't run out of detergent either; not with SmartDispense Technology; this washer can store a two-month supply of detergent and fabric softener, intuitively dispensing the correct amount needed for every load.
You can sanitize with Oxi and remove bacteria from your laundry and pre-programmed settings treat the most common stains.
Visit Home-Tech's Washer Department
There's even more, so we suggest you stop in to one of our beautiful showrooms in either the Charlotte, Lee & Collier County or Sarasota & Manatee County to check out this inventive GE model for yourself!
Save time, money, and your clothes with Home-Tech.