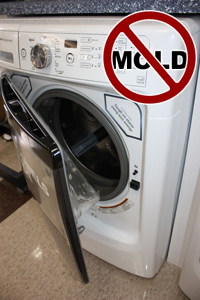 Do you have a front load washing machine? If you do you know how efficient it is, how much water you save, what a good job it does getting your clothes clean and how gentle it is with your clothing. But you also may be struggling with a build up of mold or mildew in your washer if you don't follow these basic tips.
Crack It
Mold and mildew grow in humid places. Because front load washers are sealed tightly, there is no way for the inside of the washer and the door gasket to dry out completely when the door is shut. Just remember to leave the door cracked open after each load. If you are concerned about children or pets getting in the washer, be sure to leave your laundry room door locked.
Dry It
The door gasket and the glass on the inside of the door need a little help drying out. Just run a towel over them to dry them off when you are done with a load. It just takes a quick second.
Transfer It
Don't leave a load of wet laundry in a front load washing machine. If you can't immediately get it in the dryer, go ahead and move it to a laundry basket. You don't want to create conditions where mold can grow.
Heat It
Most of the time you will run cold water loads in a front load washer because they clean very well and you save energy that way. Every now and then do a load on Warm or Hot and use a little bleach. This will help clean detergent residue and dirt from the inside of the washer.
Clean It
Clean the interior of your front load washer according to the manufacturer's recommendations in the product manual. Most new front loaders have a CLEAN cycle. Always use a manufacturer's recommended product. Home-Tech appliance experts recommend Affresh and Washer Magic. You can also use a rag with a mild bleach solution on it and wipe off your door and door gasket periodically.
Home-Tech is here to help. Since 1981 Home-Tech has been servicing major appliances in SW Florida. Between our Appliance Sales Associates and our knowledgeable technicians there isn't much we haven't seen or helped our customers deal with over the years. Call 800-800-8356 or visit one of our Showrooms anytime you'd like to speak to one of our experts.