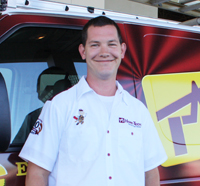 Did you know that you should have A/C service on your unit at least once a year?  Home-Tech offers the best Clean and Check in the business.  Did you know that when you are a GOLD Service Agreement Member, the cost of that Clean and Check is included in your coverage (a $129.00 value)?  Today's customer testimonials are about one of the many of our technicians who handle our a/c service calls.  Attaboy, Joe!  If you would like to share about a service experience you've had with Home-Tech please visit our Facebook page or give us a review on Google.
We Can Always Count on Home-Tech AC Service
Hello "Atta Boy"-
We have been using "Home-Tech" for approximately 10 years.  Today Joe was here to do A/C service on our unit and to add a surge protector to our house.  He is very friendly, knowledgeable and very professional. The service from Home-Tech is great and we have recommended them to our friends and family.  Other companies in Florida should follow their example as to how to treat customers.  It is no wonder they are very successful.  We know that we can always count on "Home-Tech".
Very Satisfied Customers,
C Huffman, Estero, Florida
Very Pleased with Home-Tech
We wanted to thank you for sending Joe  to inspect our air-conditioner last Friday.  He was very good and explained in detail what he was doing.  We are very pleased with Home Tech.
P. Miller, Naples, Florida
An Asset to the Company
Joe came to service our air conditioner.  Joe was within 15 minutes of the promised time of arrival and immediately began the servicing.  Joe was extremely polite and courteous and it was a pleasure to work with him.  He explained very nicely every phase of his service and answered all my concerns very clearly.  I would say that Joe is an asset to your company.
Respectfully,
G. Krumenaker
Lots of Attaboys
Joe came out this afternoon to work on our air conditioner and refrigerator.  Joe's an excellent representative of your company and you should be quite proud of him.  He's efficient, knowledgeable, thorough and very personable.  We give him lots of Attaboys.
B. Gruenwal, Sarasota, FL
Never Been Unhappy
Joe did our annual A/C service today. Nice, amicable, professional and interesting. He finished the job quickly and efficiently, hope he will do our service on another house next month. Thank you Home-Tech, never been unhappy.
D. Marconi, Bonita Springs, FL
13 Year Relationship With Home-Tech
Your tech, Joe deserves an attaboy for his care and efficiency in his maintenance and knowledge while performing our annual a/c maintenance. It is associates like him that keep our confidence in our 13 year relationship with Home-Tech. Please note that this email is being submitted genuinely. We have not been bribed in any way nor are we related. We are expecting that when Joe is promoted he will still be available to oversee the new employees who service our units.
J. Goodman
Represents Home-Tech Well
Good morning –
Yesterday your service tech Joe came out to our home for our annual inspection of the air conditioning unit. Received call from office to expect service tech between 10 and 1.  Joe called ahead and said he would be arriving in 30 minutes.  Joe arrived much sooner, got to work, checked the air handler visually and electrically.  Checked the condenser for pressure. Answered questions that I had. Very friendly and businesslike.  I think he represents himself and the Home-Tech company well.  Any other questions you have you may contact me.
C. Richard, Leigh Acres
Extremely Helpful and Very Polite
I just want to let you know I just had my first appointment with your Home-Tech technician and we were so pleased with his knowledge about a/c service.  He was extremely helpful and very polite. I knew I made the right choice leaving Broward Factory and switching to Home-Tech. I even got a surge protector.  Broward never recommended that to me. Thanks again.
Kathy K –