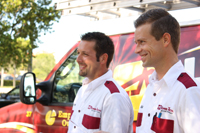 So . . .  it's the day before Christmas.  What do you do if  you need appliance or air conditioning repairs?  Heaven forbid it happens on Christmas Day! Frostbite! Don't worry, just give Home-Tech a jingle, of course. Not many companies have technicians who are trained to repair both air conditioning and your major appliances.  But that is what Home-Tech is all about – service that works.  Our technicians are trained to handle these diverse problems. So with one service call you can have many different repairs taken care of. And we take care of our customers even on holidays! Best of all, with one of our popular Service Agreements you never have to worry about paying a repair bill again!
Today's customer testimonials are about Shaun.  Attaboy, Shaun! If you have had a service call with Home-Tech and would like to review us please do so at Google or on our Facebook page.
Service Agreement Includes Air Conditioner Repairs
Hi Home-Tech,
A brief note to say thank you for your continued great service.  Shaun  came to my condo today to replace a motor in my air conditioning unit and was great!  Joel was great too when he came out on Tuesday to diagnosis the problem. Thanks again – my service contract with you eliminates so many hassles that I wouldn't want to deal with throughout the year!
Best
L. Hitchcock
Conscientious of Our Home
Your technician Shaun, just left our home after repairing our dishwasher. He was courteous, informative and very professional. In addition, he presented himself well and was conscientious of our home. He took his shoes off and asked us for a towel before placing a tray on our new kitchen floor. He also presented the service plan to us and  impressed upon us its value…notwithstanding, I had already spent $170 on this service call so the service plan really only cost me $295.00.
It would seem to me that he is a credit to your company. I hope you take care of him appropriately. And no, he's not related to us…
D. Ivey
Naples, FL
Showed Initiative and Flexibility
Hi,
I'm sending a quick note to let you know that our refrigerator was repaired by technician Shaun today.  He was personable, efficient and a pleasure to have here taking care of the three problems with the appliance.  There is not always a simple formula to get the job done, and he showed initiative and flexibility by contacting the manufacturer to get past an obvious problem with the fix they had recommended.
We're glad to have had Shaun on the job.
Cordially,
C. Ganjamie
Naples, FL
Pleasant and Efficient
Hi,
Shaun arrived when he said he would.  He was aware that I had to leave by a certain time, so he made sure to get everything accomplished by then. He did maintenance on both air conditioners and, after repairing the washing machine, he analyzed the problem and ordered the necessary part. He has a neat appearance, is courteous, pleasant and efficient. I would give Shaun excellent marks in all departments.  He is the kind of employee we would like to have in our business up north.
B. McCormick
Shaun, addressed our issue re:clothes dryer. He was persistent and got to the problem and ordered a part necessary to fix. He is polite, courteous, and a good representative for your company.
Thanks,
J. Certa