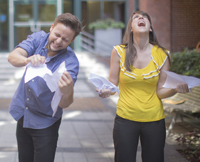 Halloween can be a fun, scary night. All kinds of strange, eery creatures show up at your door with a trick or a treat. It's the time of year to visit haunted houses and watch horror movies (while also wearing a mask and keeping socially distanced…thanks, 2020). It's fun to be scared sometimes, isn't it? The employee-owners of Home-Tech love celebrating Halloween. Our costume contest is legendary. Many go all out to have fun and participate. You know what else Home-Tech goes all out for – solving your appliance problems. We make sure you aren't spooked by appliance repairs.
Haunting Repair Bills
Isn't it frustrating when one of your appliances goes down? It's so inconvenient to not do laundry or have a dishwasher full of dirty dishes or worse yet, a fridge full of spoiling food. Home-Tech is here, 7 days a week (even on holidays), ready to send an expert appliance technician your way. We repair every brand, have fully stocked trucks with the necessary parts, and our technicians are highly trained.  Our Service Agreement customers love the NO CHARGE invoice the best. With our GOLD contract, there is no charge for parts, labor, or a service call fee on any covered item.
Don't Let Those Old Appliances Haunt You
Are you losing sleep worrying that one of your major appliances is going to break down? They can be very expensive to replace without a Service Agreement. Our Service Agreement Members get an incredible Member price on any new appliances they purchase from Home-Tech. Visit a Member Center or shop our online store.  You'll see that these low prices are just another benefit of having a Service Agreement with Home-Tech.
Give Costly Appliance Repairs a SILVER Dagger to the Heart

Home-Tech has two Service Agreements. You all know GOLD, but let us introduce you to SILVER. SILVER is for the budget-minded homeowner. It's the same great coverage as GOLD but with a lower price. All you pay is a minimum service call fee each time a technician comes out to help you.
Call Home-Tech today at (800) 800-8356 if you need a repair or if you would like to talk to a specialist about our Service Agreements!  And… a Happy Halloween to all.