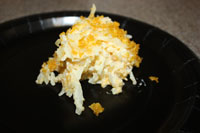 Home-Tech just celebrated a great year with the Annual Christmas Breakfast with all the air-conditioning and appliance technicians and tech reps. On the menu were scrambled eggs, bacon, sausages, biscuits and gravy, fruit and a fantastic cheesy hash brown casserole.
The hash brown casserole was so loved we asked the cook to share her recipe. If you double this recipe it will make a 21″ x 13″ pan, so it will feed a big crowd and leftovers will be plentiful. If you are wondering if everyone will like it, we just witnessed 100 people wolfing it down. (Our cook made 4 large pans!) It does have a strong sour cream and onion flavor so if you dislike either of those flavors just omit the ingredients.
Ingredients:
1 (2 pound) package frozen hash brown potatoes, thawed out
1 can cream of chicken soup
1/2 cup melted butter
1 (8oz.) container of sour cream
2 cups shredded cheddar cheese
1/2 cup chopped onions
1 t. salt
1/4 t. ground black pepper
2 cups crushed cornflakes
1/4 cup melted butter
Cooking Directions:
Preheat oven to 350 degrees
In a large bowl combine hash browns, 1/2 cup melted butter, cream of chicken soup, sour cream, chopped onion, cheddar cheese, salt and pepper. Place mixture in a 3 quart casserole dish. (If you double the recipe use the 21 x 13 pan.)
In a saucepan over medium heat sauté cornflakes in 1/4 cup melted butter and then sprinkle the mixture over the top of the casserole.
BAKE covered for 40 minutes.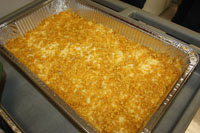 Thanks to Lizette, from the Air-conditioning Sales Department for cooking and sharing her recipe.  If you have any great Christmas breakfast recipes for us we'd love to hear about them. Please feel free to share on our Facebook page.