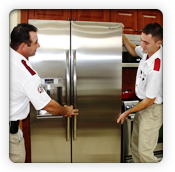 Picture this. You come home from a fantastic round of golf. It's celebration time! You have a couple of friends in tow. It's time for a cold one. Happy hour is sounding good. You reach in the refrigerator to pull out a couple of ice cold beers and what do you find? They don't feel quite right. They aren't cold. You feel around frantically in the fridge and find that everything is warm. Your refrigerator is broken! Party foul! Anyone that has ever had the experience of needing a refrigerator repair has had these panicky thoughts:
"My food is going to spoil. What can I do? Who do I call?"
Well if you live in SW Florida the best place to call is Home-Tech.  Refrigerator repair is one of our specialties.  In fact we repair all major appliances and air conditioning as well.  Ask around in your neighborhood.  One of your neighbors is bound to have had us out for service and will recommend us to you. When you call for your repair you will hear about the First Call's On Us which is our program to get you started with our famous Service Agreement. You can save up to $200 off the cost of your refrigerator repair today.
How Much Does a Refrigerator Repair Run These Days?
Well, if you have a Service Agreement there is NO CHARGE for covered parts and labor.  If you are paying retail cost for a refrigerator repair you can expect to pay almost $700 for a compressor, over $1600 if your need a compressor and a condenser repair.  A motor repair can run from $200 to over $400 depending on what the problem is.  Control boards, relays, switches, cold controls, dampers, door repairs all run in the hundreds of dollars.  So you can see how it pays to have a Service Agreement which not only covers your refrigerator but every major appliance in your home and your air conditioning system.
Hear From Our Recent Customers
I would like to comment on the recent experience that we had with Home-Tech when our refrigerator developed a problem. Two things happened that confirmed that our decision to make Home-Tech our ONLY source to handle all of our appliance related problems was a good one. 1) although it took several trips, by different Home-Tech technicians to, solve the problem they didn't hesitate to pursue the solution until it was resolved. 2) the quality, demeanor and technical expertise  of ALL the technicians that were here to work on the refrigerator was exemplary, to say the least.
It's been a real pleasure and given us peace of mind to have been a customer of yours over the years.
J. Weliver
Working in No Time
Good Morning,
We just wanted to give an "attaboy" to Brian and Justin.    Justin did a great job diagnosing the problem(s) with my refrigerator and Brian came out a week later with new parts and had it working great in no time.
Thank you,
S. Nipper