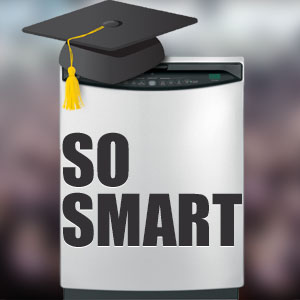 Unless you're a millennial that's grown up with amazingly impressive technology like new GE dishwashers have to offer, it's sort of hard to really trust all the newfangled fanciness of the world. Twenty-somethings are used to smart phones, smart cars, and smart TVs – when the rest of us were in our 20's, we had to actually BE smart.
Take everyday appliances, for instance. We had to make sure our fruit and veggies were sealed up tight as a drum, lest they spoil in the refrigerator; these days refrigerators are smarter than we are, with special compartments and temperature settings that keep food fresh and crisp, even if your haven't burped the lid on your Tupperware.
It used to be that you barely used your garbage disposal because you were sure to ruin it with one too many cucumber peelings, but the garbage disposals now can actually sense when a jam is about to happen and give you a warning. And remember when you had to manually scrub at a stubborn stain before putting your favorite shirt in the washer? There are now washing machines with patented heat options that get those stains out automatically. Yet, there are still those of us born before the mid-80's that are convinced it's all too good to be true.
New GE Dishwashers – Smart About Silverware
And yet, as far as technology has come, there are those of us who will not only SOAK our silverware before putting it in the dishwasher, but will SCRUB it too. We truly believe that good old-fashioned elbow grease is the only thing that's going to successfully remove scrambled egg residue from a fork, or hardened mashed potatoes from a spoon. Well, brace yourself then, because G.E. has just announced dishwashers that are smarter and more efficient than we could ever be – and they're all about jets! Want to see how the jets work inside the dishwasher?  See the cool video from G.E.
That's right, come June, all new G.E. Profile and Café dishwashers will be equipped with over 40 deep clean jets designed to get your silverware spotless and sparkling. No soaking, no scrubbing – just load the silverware baskets and let the jets do their job. These cool new jets are powered up from below to attack truly stubborn food remnants – the kind you thought you could only conquer with a scrub brush and time. See the video from G.E.
Sleek, Stunning, and SMART
There's more – like a third rack for more loading flexibility, red bottle jets powered from up top to deep clean sports bottles, baby bottles, mugs, and more, and front controls for a sleek appearance in stainless steel and slate finishes that look fabulous in any kitchen. See the video from G.E.
Sometimes, you've just got to let go and trust – and just think what you can do with all that extra time when you're not scrubbing silverware — you might just be able to find a millennial willing to take a few minutes to show you how to operate your Smart TV.
GE Dishwashers at Home-Tech
Did you know we not only service GE dishwashers but we also sell and install them, as well! Contact Home-Tech if you're in need of a new dishwasher.