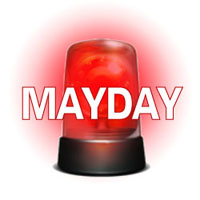 May has officially arrived and in Southwest Florida, that basically means the beginning of seven long months of heat and humidity. Not a good time for your air conditioner to break down for sure! In other parts of the country, they're happily waving goodbye to one of the most brutal winters ever, as they joyously open their windows and doors to allow a lovely spring breeze into their homes. But here, we're doing just the opposite. We're closing everything up and cranking our thermostats down (as I pen this missive, it's 91 degrees and 60 percent humidity – and it's only May 1st). But, what if, just what if, it stopped working?
Scary Summer
We all have fears – but if you're like me, one of the most terrifying things imaginable is having your A/C die. A good, working, cold air conditioner is key to survival in our tropical climate. Some say they're "fine" with opening windows and running ceiling fans, but I'd rather pay for air-conditioning than just about anything. I'm happy to give up a new pair of shoes or a handbag if it means keeping my thermostat at 70 degrees at night. And any woman who has ever experienced a hot flash KNOWS EXACTLY WHAT I'M TALKING ABOUT.
Home-Tech to the Rescue!
Last summer, my fear came to pass. Our A/C was not pushing out cold air – and it was August. It was also a Sunday evening (of COURSE). My first thought was to check into a hotel, but then I remembered Home-Tech. The Tech Rep was there lickety-split – and luckily it was an easy fix – he replaced some fluids and the A/C was doing its thing again before I was nearly forced to dunk my head in a sink full of ice water.
First Call's On Us
Home-Tech is your May Day call on May Day or ANY day if your air-conditioner – or any appliance – needs a fix. And remember, the First Call's On Us! That means Home-Tech will cover your first repair up to $200 when you purchase a Gold Service Agreement – taking the anxiety out of a long, hot summer is SO worth it. Personally, I'll never forget the technician who saved my life with a May Day call last year – and my husband is grateful, too – menopausal women in non-air conditioned environments should be approached with caution. Trust me.