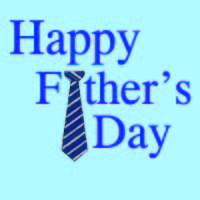 With Father's Day coming up this weekend we thought we would share a unique gift idea for your Dad – a Home-Tech Service Agreement, so he doesn't have to make repairs anymore.
Poor Dad, or poor hubby (whichever the case may be) — a new survey conducted by the Daily Mail says that over 70% of people rely on their Dad's to fix things until they're at least 41-years old.
No kidding.
Offspring are calling their fathers to pop on over at all hours to handle a variety of home emergencies.
Included in the Top Ten Dad Duties Are…
Repairing the air-conditioning and/or heat.

F

ixing a sink.
Replacing fuses or light bulbs in appliances.
Installing a kitchen.
Children in your 40s, it's time not only for YOU to get a Service Agreement from Home-Tech, it's time for you to get one for your Dad too — and it's the perfect Father's Day gift.
Dad Deserves a Break
Let's face it, Dad has tons of socks, plenty of aftershave, and if he needs a new putter, he'll go buy one himself. What he really wants is rest, relaxation, and peace of mind. That means not driving over to the kids' house to diagnose and repair appliances. And better yet, not having to worry about those emergencies in his own home either. You may picture Dad with a tool belt around his waist and his head behind the refrigerator, but trust us, Dad pictures himself on the golf course, on a boat, fishing or sitting in front of the TV with a cold beverage cheering on his favorite team. And that means the security of Service Agreement Membership from Home-Tech.
Go For the Gold — The Perfect Service Agreement for The Perfect Dad
Home-Tech offers a variety of options when it comes to Service Agreements and your Dad deserves the best — that means the gold treatment with the Gold Service Agreement, it includes:
Unlimited service calls with NO service call fee, deductible or co-pay
Parts and labor are included
Emergency service, 7 days a week, including Holidays (especially Father's Day!)
An annual air conditioning Clean and Check service
Free replacement if not repairable (equipment under 10 years of age, excluding water heaters)
Special Member Discount Pricing on air conditioning systems and major appliances
The convenience of immediate and professional service is just a phone call away.
Meanwhile, you're still allowed to call your Dad for his wisdom, advice, and to babysit grand kids (these are the duties they actually like). But, leave the repairs to Home-Tech — and have a fabulous Father's Day!