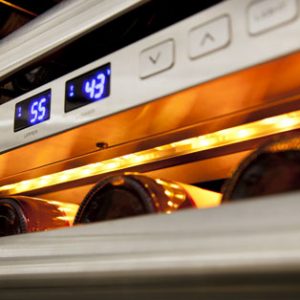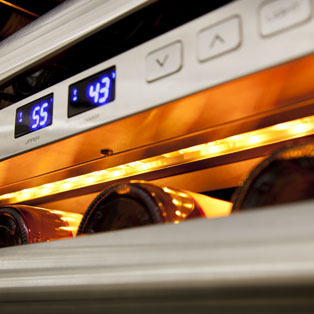 National wine day is this week and it couldn't have come at a better time. Home-Tech has the True® Dual Zone Wine Cabinet to help you store it perfectly.
We locals adore our snowbird friends – and just as our winter resident pals enjoy getting back to their families and friends for the summer months up north, we full-timers love having the place to ourselves for a few months. Those months may be Africa hot, but our roads are a little easier to navigate, we can get into our favorite restaurants without a wait, and we can enjoy all the summer specials for Florida residents.
So, while our northern buddies get to see fireflies, sunsets at 9:30, and play at lots of outdoor festivals and celebrations, we enjoy a quiet, lazy summer. And there's no better way to kick it off than with wine – lots and lots of wine. It's time to sit back, put our feet up, toast to a great season, and relax.
Take the Guesswork Out of National Wine Day

As much as most of us love wine, we're not necessarily experts on storing wine. That's why a good wine cooler takes the guess work out of it and could have you on your way to becoming an amateur sommelier. It's easy to just throw your white wine in the refrigerator and your red on the counter. But not only will it take up lots of space, the temperature in your fridge probably isn't the right temperature for your Chardonnay. And the temperature in your home might not be the right one for your Pinot Noir.
The Fabulous True Dual Zone Wine Cabinet
For the best advice, we consulted with Home-Tech sales and appliance expert, Jeff Hendershott at our Member Appliance Center on Lena Road.  He told us that while he's a fan of all the wine coolers Home-Tech sells, he says the Dual Zone Wine Cabinet by True® (Model #TWC-24DZ-R-SG-B) is fabulous and one you definitely want to check out. This high end, super sleek unit features LED lighting and comes in a variety of colors, so it's an appliance that'll give your home a modern touch.
Not only that, there are two completely independent zones that give wine lovers lots of flexibility as temperatures range from a perfectly chilly 40 degrees to keep those whites nice and crisp, to 65 degrees which helps your reds last longer and taste better. Slide-out shelving and glass doors make picking out your favorite bottles easier, too.
Raise Your Glass
Especially if you've had a busy season, it's time to kick back and reward yourself with an appliance that celebrates a favorite hobby – enjoying wine. And don't forget to raise a glass (or several) this week – Happy National Wine Day from Home-Tech. Cheers!