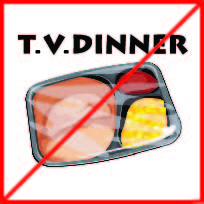 Steam ovens are all the rage right now and it totally makes sense why. Our generation grew up with TV dinners and while we seemed to love them at the time, now they seem kinda icky. Speaking of…TV Dinner Day was last week and it created feelings of nostalgia here at Home-Tech. Can you blame us? If you grew up before the days of microwaves, you remember the TV dinners of yesteryear from brands like Libbyland, Swanson, and Banquet. They came in tinfoil containers with individual sections for each serving. Do these tasty creations ring a bell?
Salisbury Steak
Turkey with Gravy
Classic Fried Chicken
Meatloaf with Tomato Sauce
Classic, right? Then there were the side dishes — a solid square of "mashed potatoes", slightly soggy Tater Tots, and overly colorful peas and carrots. Lest we forget the desserts (which as kids, most of us went for first) — cobblers galore, like cherry, peach, and apple with lots more sweet, chewy crust than actual fruit preserves.
Convenience CAN be Healthy
We'll never forget our moms peeling the tin foil off the trays as our TV dinners came out of the oven, while she set us up in the living room in front of our favorite show ("Brady Bunch" and "The Partridge Family" come to mind) with a glass of Nestlé's Quik to accompany our Salisbury Steak. But, the truth is, while actually pretty yummy, TV dinners back in the day weren't exactly known for their nutrients and health benefits.
Those cardboard boxes of frozen, processed tastiness were more about convenience. Thankfully, times have changed and not only has convenience gotten healthier, it tastes better — and looks fabulous in your kitchen in the form of a Thermador Masterpiece Steam & Convection Oven (model #MES301HP).
Steamed and Lean with Thermador Steam Ovens
Home-Tech loves this awesome appliance from Thermador for a number of reasons – it's perfect for foodies who adore cooking – and it's the best friend of people who'd rather throw a TV dinner in the oven. There are forty – yes, forty pre-programmed cooking modes that make life easier. Humidity and temperature are automatically set for the perfectly cooked meal. Instead of a boxed meal, throw some fresh veggies, some seasoning, and olive oil into a bowl and in ten minutes, you've got a delicious and healthy side dish, steamed to perfection.
Thermador shares tons of recipes running the culinary gamut from Steamed Mussels with Tomato Garlic Wine Broth to Mocha Cream Filled Éclairs. Plus, at 24" this sleek built-in oven goes beautifully with any kitchen décor.  With the Thermador Masterpiece Steam & Convection Oven, your taste buds will thank you – and while you're welcome to eat your dinners in front of the TV, what you'll be cooking, WON'T be your mama's TV Dinners.