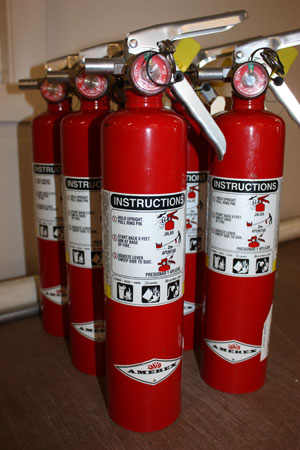 Fire Prevention Week runs from October 6th through October 10th. A big part of this under-celebrated holiday is performing dryer vent maintenance. We'll come back to that later, but for now I'd like to discuss the event of leaving my home, even for a quick jaunt to CVS. It can be a major production for me. Typically, it goes like this:
Get out the door and suddenly remember the coffee maker – run back inside and realize I already turned it off. Get out the door again and decide to go back and physically UNPLUG the coffee maker. While I'm at it, make sure the stove isn't on (even though I haven't used it for days). Out the door again, almost to the car, when it hits me – the curling iron!
Rush back in, run to the bathroom, and switch it off – for good measure, unplug it. While I'm at it, unplug the blow dryer too, because, here's how my mind works: the cat jumps on the counter and accidentally knocks the blow dryer to the floor, which somehow triggers the "on" switch, and since it took such a hard fall, the wires get tangled, so it sets the bath mat on fire, and burns down our entire home.
Dryer Vent Maintenance Saves Lives (and Stress Triggers)
Given all of the above, you can only imagine my reaction recently when the dryer was tumbling along, filled with fluffy flammable bath towels, my husband suggested we go to brunch. Seriously, does he not even know me? Not only did I stop the dryer with our damp towels inside as we walked out the door, I left the dryer door propped open (just in case the cat knocked it closed and triggered the "on" switch). If I wasn't concerned about looking insane, I'd have unplugged it completely.
Home-Tech is an Expert with Dryer Repair

Home-Tech repairs every brand of dryer on the market. So if your dryer is acting up just give us a call. Our technicians do remove mounds and mounds of lint from the inside of equipment. But when it comes to thoroughly cleaning your vents we leave that to the experts at Amerovent. We're happy to recommend Amerovent to make sure your dryer vents are clean and SAFE. Overheating can be deadly, leading to dryer fires so make sure your venting system is free of flammable debris so that when you leave the house you have NOTHING to worry about – except the coffee maker… and maybe the curling iron… and – ok, never mind. Safety first (check your toaster)!