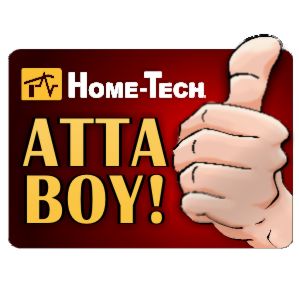 It takes a lot of cooperation among the employees of a service company to provide excellent service to customers. Home-Tech has this down to a science. From the Customer Service representative that answers your call and schedules your appointment time, to the Dispatch Department that plans the route for the service technicians, to the technicians who are trained in all major appliance repairs and ac service, it's a well oiled machine. The icing on the cake is you, our customers, who are so willing to give the technicians such great Attaboys for their service. Thanks for doing that and we are going to keep sharing your good words!  We invite you to visit our Google page to share your comments there as well.
Very, Very Tidy
James came to fix our air conditioning service, to service our air conditioning. We had an excellent service from him.He was incredibly thorough and very, very tidy, cleaned up and just a very good job done. Thank you very much.
Mrs. Coughlin, Sanibel
Shout Out to Customer Service
For Peggy – Thank you for taking care of our problem. Our air conditioner was out and we really appreciate what you did for us.  We are very happy with your service.
The Catowskis
Garbage Disposal Fix
I had Brian S come to my house this morning to fix a disposal in my sink.  Not only was he was very much on time, calm and professional, did a good job and cleaned up everything afterwards. I highly recommend him. Thank you for having someone service me who does such a good job.
T. Rosen
Very Professional
We had Pedro come out and service our air conditioning.  He was very professional. We really appreciate that. Thank you.
Mrs Indevery, Naples, FL
Service for a Dryer
I'm reporting on Nick. He came to my house last week to check and service my dryer.  We were very impressed. He was very professional.  We do appreciate that. Thank you.
J. Ostringer
A Great Employee
Yesterday one smart person came to my house and fixed my air conditioning. His name is Steve.  In my house I've never had a smart person like that. I just wanted to let you know he did an outstanding job.  He's a great employee and very very smart. He did a great job. Tell him he did a great job. Thanks.
The Gobals, Venice, FL