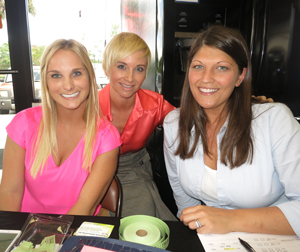 At employee owned Home-Tech, we love hosting a party – especially if it's right on one of our favorite turfs – our Fort Myers Member Appliance Center on Plantation near Daniels.
Mix & Mingle
The Greater Fort Myers Chamber of Commerce monthly Women In Business gatherings are among the best events to network, have fun, eat, drink, and be merry. Whether it's seasoned business leaders like Gail Markham who spoke about the importance of volunteerism at the event, or newcomers looking to meet new contacts, Women In Business is the perfect place get to know the ins and outs of the Southwest Florida business world.
Sparkling Crowd
Last Wednesday evening, Home-Tech was filled with a who's who of area female leaders in business. There were Public Relations experts like Connie Ramos-Williams, Kimberly Pollock, and Erica Palmer. The nonprofit world was represented by the like of Angela Melvin, Stefanie Ink, and Angela Katz. Lots of ladies from Home-Tech were happy to help host including Sonya Sawyer, Tracey Hendershott, and Margo McQueen.
What She Said
Plenty of ladies loved being at Home-Tech for Women in Business. "It feels like you're in someone's comfy kitchen," said Ink.
"It's great how everything's set up here," said Ramos-Williams. "It's perfect for a party – and for shopping!"
Vashalynn Natal of U.S. Health said it was her first time at Home-Tech, "It's such a good concept – the set-up is so realistic of actual kitchens. It feels like home."
Home-Tech donated a beer kegerator and a PureWash system to the raffle to generate more ticket sales for the scholarship fund. The mixture of men and women who attended enjoyed fresh Italian food catered by Blue Moon Pizza and everyone went home with a Service Agreement brochure and the special drink recipe for the night.
Stop In
We hope you'll come by and see what Women in Business already know. Home-Tech is the place to be and be seen, whether you're networking or looking for a new air conditioning system, a Service Agreement or a fabulous new appliance – we've got you covered.
Women In Business takes place in a variety of area locations on the first Wednesday of every month from 4 pm until 6 pm. For more information, contact the Greater Fort Myers Chamber of Commerce.