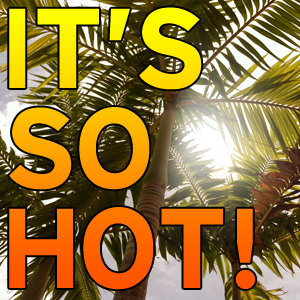 It's officially the dog days of summer – ac breakdown days – and if you're new to Southwest Florida, we'd love to tell you that this is as hot as it gets — but we'd be lying. And if you've lived here for awhile, you know it's not even August yet – and that some say that September makes August look downright chilly. It's July in the tropics – and while people like to say, "It's the humidity, not the heat," we all know it's BOTH.
It's So Hot That…
In fact, people like to say a lot of things about the heat down here where living in the Deep South means we're uncomfortably close to the equator this time of year — and a place that's paradise from November through May becomes a hot, sticky, 95 degree swamp in the summer. So, if you really want to be a hit in the sweltering Southwest Florida crowd, you'll want to learn the Southern, "It's so hot…" vernacular. Here's a few of the most popular sayings to describe the local heat:
"It's so hot that you could fry an egg on the sidewalk."
"It's hot enough to melt the hinges off the gates of Hell."
"It's so hot that the catfish are already fried when you catch them."
"It's so hot that when the dogs chase the cats, they're both walking."
"It's so hot that I'm sweating through shirts that are still hanging in my closet."
"It's so hot that birds are using potholders to pull worms out of the ground."
"It's so hot I saw a chicken laying an omelet."
"It's so hot, two trees just fought over a dog."
"It's so hot you could wash and dry your clothes at the same time."
"It's so hot, even the dirt's on fire."
"It's so hot the devil's shopping for an air conditioner."
Emergency Service for AC Breakdown
Ah, yes – air conditioning – the only thing that keeps us relatively calm, comfortable, and sane during these sizzling months. Our air conditioners are working overtime – and for some, it could mean an unexpected ac breakdown and you need professional ac repair. That would be the worst – but if the worst happens, Home-Tech has you covered with emergency service ANYTIME – days, nights, weekends, and even holidays. If you wake up in a pool of sweat at 2 a.m., don't rush to a hotel – call Home-Tech to handle your ac breakdown. Lots of customers have relied on Home-Tech since 1981 to repair their AC units.  You can read many reviews on our Google+ page.
It's So Hot It's Time To Get The AC Checked
Meanwhile, you can avoid an ac breakdown by letting one of our awesome technicians evaluate your air conditioner now – before the worst happens. After all, when it's so hot that you could bake sugar cookies on the dashboard of your car, you don't want to take chances.