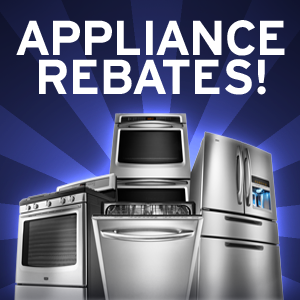 Whether it's BOGO (buy one, get one free!), Groupon, or online savings – saving money and finding sales has become complicated. Not long ago, all we had to do was check the Sunday paper for coupons and sale flyers, but now there are a million ways to save – the trouble is in finding them all. Unless, you're super Internet savvy, it's easy to get lost in the shuffle of sales and savings "codes".
It seems there's an app for everything, including discounts, but figuring it all out can be a full time job, and after spending three hours Googling the best discount and then sifting through websites for the right code to enter, are we really saving money – or are we just wasting time?
One Click Appliance Rebates
At Home-Tech, we cut through all the all Internet traffic, passwords, apps, and confusion with one-stop shopping. It's called appliance rebates and with just one click on our website, you can find out how much money you'll get back when you purchase an appliance with us.
When one of your appliances gasps its last breath, who has the time to struggle on the Super Information Highway to find a sale? And most of the time, it's all a lot of double speak – okay, so maybe you'll get a free pair of snow skis if you buy a microwave, but in Southwest Florida those snow skis are about as useful as suntan oil in Ohio during the month of February.
At Home-Tech, we know that you'd rather have cash in your wallet than any buy-one-get-one-free gimmick. We're all about appliance rebates AND making them easy and simple to find. By going to our online appliance store and simply clicking on our rebate center  you'll get money back for appliances you need like refrigerators, washers, dryers, ovens, and more by great names like Bosch, Kitchen Aid, and Maytag.
Money Back – Quick and Easy
We making saving money with appliance rebates simple – no jumping through hoops. At Home-Tech, we know your time is valuable – and saving time is as important as saving money. No apps, no codes, no Googling required.