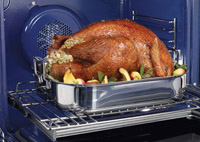 First of all as we wish you a happy Thanksgiving we should let you know that we are available for emergency repairs if you need us!
As the sweet smell of pumpkin pie fills your home, along with the smokey, roasted scent of turkey wafts through your kitchen, and children (or grandchildren) beg to lick the spoons you use to stir the cookie batter, your Home-Tech family is happy to wish you a delightful Thanksgiving and happy holiday weekend!
A Sunny Thanksgiving
If you're a recent transplant from the north or even if you've been in Southwest Florida for years, it can be a challenge to get used to the difference between the Thanksgiving holiday here as opposed to the one above the Mason-Dixon Line. We're barely celebrating the end of summer with temps in the 80's and air conditioners are working hard to keep the house cool while we cook (any A/C problems — even during the holidays — call us!), while our northern friends and family are ringing in the cusp of winter, some even seeing the first snowfall of the season.
But, it's not just the weather, you'll find more hot casseroles on northern dining room tables and more fresh fruit on ours. And probably more cold drinks (cheers!)
Black Friday
On Black Friday, while our northern neighbors bundle up and hit the big box stores for Christmas shopping, we'll throw on swimsuits and head to Fort Myers Beach to check out the sand sculpting contest.
And as the northerners eat leftover turkey sandwiches in front of a roaring fire in the evenings, here in Southwest Florida, we'll take advantage of the warm temperatures to tour Holiday Nights at the Edison-Ford Winter Estates.
Our Thanksgivings aren't as traditional here in Southwest Florida, and that's why we've made our own traditions. And one tradition we don't miss is, scraping the frost off our car windshields. A happy, happy Thanksgiving to you and yours from Home-Tech — where we joyously give thanks for you! May your turkey day be filled with sunshine, warm breezes, and love.