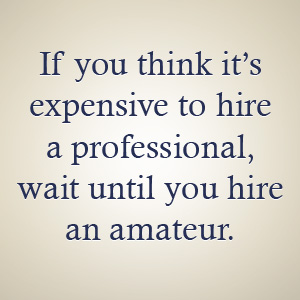 "Kitchen Crashers" "Bath Crashers" and "House Crashers" are just a sampling of all the DIY projects (do it yourself) TV shows out there these days. In fact there's a whole entire DIY TV Network that's been added to the potpourri of DIY productions out there. HGTV has "Rehab Addict", "Fixer Upper", and "Design on a Dime". Need to figure out how to install a new toilet seat, trim your eyebrows, or change the filter on your vacuum cleaner?
Just YouTube it. Between DIY television and the magic of the Internet, we've become a nation of do it yourselfers. But, not everything can be accomplished with a search engine. For instance, if we have a sore throat and we Google "home remedies for swollen glands" Dr. Google is quick to tell us that we have everything from cancer to Legionnaires Disease. Go to a doctor, because truly, some things are better off for a professional to handle.
Leave the Air Conditioning Repair to Home-Tech
It's getting warmer outside and here at Home-Tech we encourage you to change your air filter on your own, but when it comes to checking freon levels and making sure all the vents are clear and pressures are right, leave that to our professional technicians.
They've had top notch training and lots of experience. Without them, your DIY projects on A/C maintenance could turn into a DIY disaster. Especially if you're air conditioning goes on the fritz, no TV show or Internet video can show you how to get it up and running again. For Professional air conditioning repair, you need to call the pros at Home-Tech. Not only could you do irreparable damage to your system by fiddling with a machine that's all about water, coolant, and electrical power, plus it could result in irreparable damage to YOU. Professional Air Conditioning repair is just one of the many DIY projects that are better left to a pro.
Home-Tech Takes the DIY Projects Out of Appliance Repair
Just because the cute and handy hostess/host of a home improvement show seems to be able to install and hook up a refrigerator, or a washer and dryer, or any other major DIY projects doesn't mean she/he doesn't have a team of professionals off camera that are really doing the nitty-gritty of it all. And when it comes to plumbing DIY repair, be careful before grabbing that Draino bottle and making things worse. As for electrical issues: HANDS OFF. Home-Tech has a plumbing and electrical team that specializes in quick, thorough repair.
Enjoy those DIY shows on TV – you might even pick up some great decorating and gardening tips (plus, the hosts and hostesses are always so charming and perky). But, for appliance repair and installation – call Home-Tech at 800-800-8356.