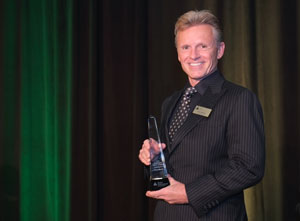 If you follow us on Facebook or read the testimonials on Home-Tech's website then you know that Home-Tech is all about giving out well-deserved "Attaboys" to our awesome team members who do a great job. Whether it's the Technician that went to an air conditioning repair job and discovered the problem and fixed it in under 10 minutes, or the Sales Expert that took lots of time and care in helping some newlyweds choose and purchase their first washer and dryer, we love recognizing a job well done and patting folks on the back including our CEO, Steve Marino.
Attaboy, Steve Marino
"Attaboys" were the idea of Home-Tech Founder & CEO Steve Marino, and this time, we'd like to return the favor and give HIM a big pat on the back for a huge accomplishment. On Tuesday, May 3rd, at a ceremony at the Hyatt Coconut Point Resort, Steve was inducted into The Junior Achievement Of Southwest Florida Business Hall of Fame.
Now in its 35th year, Home-Tech was started by Steve out of his home with one appliance repair truck and a dream. Home-Tech now has showrooms in Fort Myers and Bradenton, plus operates all the way down to Marco Island. Additionally, Home-Tech employs 130 local folks who are given the opportunity to own shares in the company. Home-Tech is locally owned and operated, employee owned, and Steve is forever proud of that. That's why he loves giving back to the community. Along with his daughter, Home-Tech CFO, Sonya Sawyer, Steve supports the PACE Center for Girls, Golisano Children's Hospital of Southwest Florida, Habitat for Humanity, and so many more.
Steve's been awarded a few other "Attaboys" besides this latest – he was named Philanthropist of the Year by Gulfshore Life in 2010. He helped Home-Tech receive recognition by the Horizon Council, and he even kicked up his heels and won All-Around Best Celebrity Dancer for the American Red Cross StarStruck event in 2007. Yep, our fearless leader can do it all.
A BIG Achievement
The Junior Achievement award is a prestigious one that celebrates area entrepreneurs who are outstanding role models for local youth. On Tuesday, builder Gary Aubuchon was also recognized. Steve now joins the likes of community leaders Gail Markham, Mark Loren, Jim Nathan, Tom Uhler, Norman Love and others who, like Steve, are shining examples in our community.
Attaboy, Steve Marino!