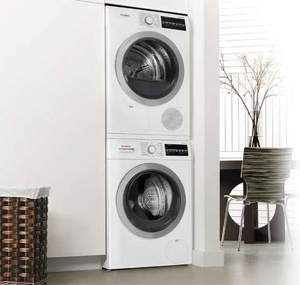 Father's Day is right around the corner. We know you'd never think of getting your Dad a new washer for Father's Day but just hear us out for a minute. The Bosch Washer Model WAT28402UC can wash five men's dress shirts in 15 minutes! Isn't that something else? What man wouldn't like that? In 15 minutes his whole weeks' dress shirts for work can be done. Booyah!  That frees Dad up for more golfing, fishing, boating, beer drinking and having fun on the beach. And, get this, this washer will also do 18 towels in one load! So his golf club and hand towels, boat towels and beach towels from all that fun can also be easily washed and JOB DONE. It also has a sanitize cycle which heats the water up to 170 degrees to kill bacteria or take care of fish guts or whatever dirt Dad has gotten on his clothing.
Manly, Stackable and Sleek Looking
You know how much Dads love packing the truck for a trip or the back of the SUV to perfection, placing each item in just the right spot, so it all fits? Dads like to stack things and the Bosch Washer Model WAT28402UC stacks with the dryer. It will fit in a very small laundry area if needed. It's also a very good looking, European-styled piece of equipment. It's sleek, neat and manly with a large door with a chrome ring.
Gadgets, Gizmos and Things That Go Fast
Dads love gadgets, electronic toys and things that light up. The Bosch Washer Model WAT28402UC has a cool interior LED light, electronic controls and a large LED display which counts down the time remaining for the wash load to finish. How cool is that?  Dad will know exactly when his lucky golf shorts are going to come out of the washer. There are sensors that control the automatic washing programs and it has special walls that reduce vibration. This baby has a 1400 RPM maximum speed cycle. That's fast! And there's even a child lock to keep the kids from playing with Dad's new "toy".
Special Drum and Cycles Galore
The stainless steel drum is snag free. That means Dad's favorite golf shirt won't get ruined. And the drum has a wave shaped pattern for perfect cleaning. There are 15 wash cycles! Permanent Press, Permanent Press Heavy Soil, Permanent Press Light Soil, Delicates, Quick 30 min, Rinse/Spin, Hand Wash/Wool, Drain, Cotton Normal,Whitest Whites, Towels, Sanitize, Super Quick 15 Minute, Bulky Large Items, and Drum Clean. Have Dad read this blog post if he has any questions about washing machine cycles.
Dads Love to Save
Dads are always looking for a good deal and also ways to save on utility bills. How many times have you heard your Dad say, "Turn off the lights!" The Bosch Washer Model WAT28402UC uses ActiveWater technology to save on water usage. It even exceeds the March 2015 ENERGY STAR water consumption standards. And it's ENERGY STAR qualified which means it will save on the electricity bill too. There is an internal water heater which heats the water very quickly. This means less usage on the water heater in the home. If you are a Home-Tech Service Agreement Member you can get this washer at our special member pricing. And if you have the Equipment Purchase Option, there will be even more savings. Ask one of our appliance experts at Home-Tech about this pricing.
Yes, we think Dad would love this washer, but even if he doesn't, won't Mom? Happy Father's Day from Home-Tech to all the Dads out there.