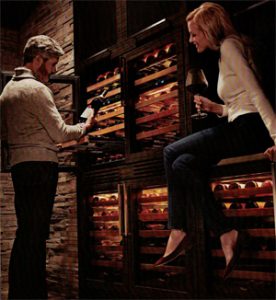 Valentine's Day is literally just around the corner. There could be wine, chocolate and expensive presents. Oh, did we mention wine? Let's go there. Anyone designing a true dream chef's kitchen for their home would fall in love with the True® Wine Cabinet. On this Dream Kitchen Friday we lay odds that there's not a woman in America who wouldn't sashay down the aisles of our Member Appliance Center and not burn with desire.
Cupid definitely hovers nearby shooting arrow after arrow until the desire to own it all is overwhelming. Valentine's Day centers around love, desire and sometimes even a hot date. Although an appliance seems like an odd gift for your partner to swoon over, the True® Wine Cabinet is worth it!
Do you love stainless steel? Do you love glass? Do you love to collect wine? Then this 24 inch wine cabinet that can store up to 46 bottles may be your true love. Do you love it when you touch a rack and it glides out smoothly? There are five racks and a floor cradle to baby your wine collection. Do you love to collect white and red wines? There are independent zones that can be adjusted from 40 to 65 degrees. So you can keep each type of your wine collection at the perfect temperature. There is a love theme here, isn't there?
Entertain Your Valentine Outside
Odds are good that here in SW Florida on February 14th it'll be at least 80 degrees and perfect weather for outdoor entertaining. True® makes all of their wine cabinets, refrigerators, beverage coolers, freezers and ice machines UL-rated for outdoor use. So you could pull out a nice bottle of red from your outdoor kitchen wine cabinet and enjoy it while lounging on your patio. What's not to love about that?
Bring your honey to our Member Appliance Center for a top of the line shopping experience. We're sure they will find true love with the True® product line. Happy Valentine's Day to all you lovers out there!