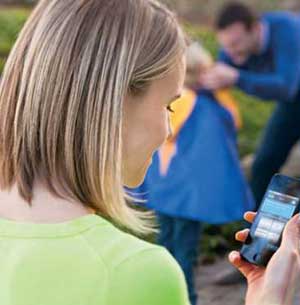 Induction cooking is ranked as one of the highest appliance trends of 2017. So we thought we would give you the run down on this very slick beauty from GE. In this age of the "internet of things" it makes sense that GE would make their GE Profile Series 30″ Free-Standing Convection Range PHB920SJSS able to connect to your home wi-fi. It's easy to control by phone app or the Alexa device from Amazon. Can you say, "Alexa, preheat my range to 350 degrees." This is just the beginning of a long list of amazing features of this Induction Range. For those of you who haven't tried cooking on anything quite this "new-fangled" we'll give you some practical ideas of how to use it and why you might want to make the investment into this type of advanced cooking method.
Can't Remember If You Turned the Range Off?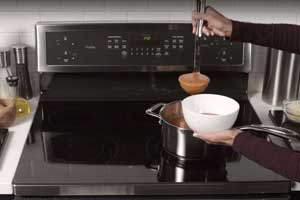 This is a common worry and concern for our Members. Life is so full of rushing around and stresses. Did I lock the door? Where is my phone? Did I leave the oven on? It's easy to get in your car, get down the road a little ways and then have a panic attack because you just  aren't sure. Also anyone who has kids who are home alone after school or even a hubby that doesn't cook often could have these same concerns. Now you can check in, find out quite easily and control your range by using the GE smartphone App. You can control this Induction Range from anywhere with your smartphone. This feature brings you confidence and you feel your home and its occupants are safe.
Pre-Heat on the Way Home
Whether you are cruising  home on your golf cart after a round or fighting SWFL traffic on your way back from work, you can have this range hot and ready to go when you walk in your door. You can pre-heat the oven from your GE smartphone App and put that pizza or casserole or pan of brownies in immediately. What a time saver for a harried cook caring for a hungry family.
Dinner is Ready Notification
No more hanging close by the kitchen waiting on the oven timer to go off. Go take a dip in the pool, water your flowers or walk your dog. Your induction range will notify your GE smartphone App when the timer goes off. Just to let you know, the wi-fi controls only the oven and not the induction cook top. But still, pretty awesome, huh?
Who Likes the Chemical Smell of Oven Cleaner?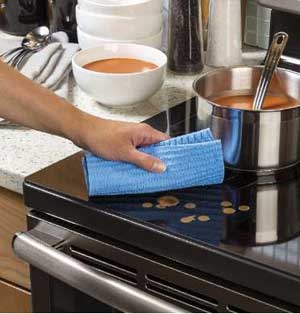 We certainly don't get anyone in our Member Appliance Center asking for that. This range has a self cleaning feature with heavy duty racks that can be left in during the cleaning cycle. Also, if it only needs a light cleaning, there is a handy steam clean feature.
It Always Looks New
The induction cooktop surface is completely flat with no cracks, or crevices or corners for grease and grime to build up. The range top is so easy to clean, you can keep it looking like brand new with little effort.
Less Time Cooking with Faster Cooking Times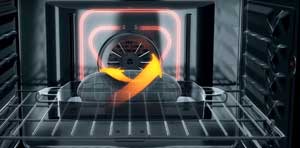 Using convection cooking this GE Induction Range can get your Thanksgiving turkey done in under 2 and 1/2 hours. Convection  baking is more even and can get your meal done 10 – 20% times faster. This article from Real Simple gives a good run down of all of the benefits of convection baking. This Induction Range comes with 3 oven racks and is highly rated for how much it holds.
The induction cooktop increases cooking speed too. Because of the way induction works and the energy transference to the pan, you can boil a pot of water for pasta in just a few minutes. (That's half the time of an electric cooktop and faster than gas as well.)
It's Safer When Children are Around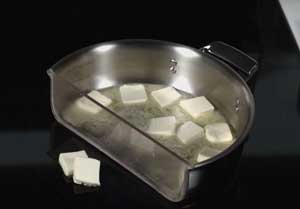 The controls for the induction cooktop are on the back, away from curious fingers. Also the induction top will only heat up if it is in contact with a pot. Only the area under the pot gets hot and the rest of the range cooktop stays cool. This makes cooktop splatters easier to clean up as well. When you are cooking on a hot Florida day, this is one of the best methods to reduce heat in your kitchen. It's perfect for the Florida life style.
You Get All New Cookware – But It's Worth It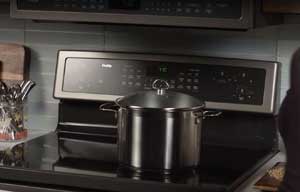 Induction cooking involves magnetism (there are no burners or heating elements) so your old cookware probably won't work. (If a magnet will stick to the bottom and the cookware is flat it should work.) There is a lot of beautiful stainless steel induction cookware out there. If you buy the right set you can try stack cooking as well.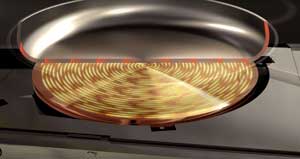 If you are interested in this Induction Range stop by one of our Member Appliance Centers or fill out the contact form. We are always here to help.
Additional Reading:
How to Prevent Induction Cooktop Breakage