One of the services we offer on a daily basis is advising our clients when it is the appropriate time to replace their ac units. Many times we are asked to quote something that was condemned by another company because they told the customer the unit is not repairable. We give them an honest assessment of the condition of the existing equipment, regardless of what the other company has said. Many times the unit still has life left and may just need a little repair or just has a little rust. We would rather be honest and have a customer for life then just get a sale.
Common Tactics Companies Use to Get You to Replace Your AC Unit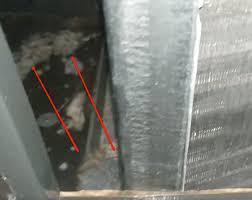 A common tactic other companies use is to point out mold in the air handler. They use this as a way to convince the customer it is not healthy or the unit should be replaced. Well, we live in a tropical climate where mildew is very common. Every air handler has it. Just because the product has a little mildew inside it does not necessarily mean it has to be replaced. The customer just needs to have it cleaned, maybe add a UV light and be educated on how the system works. They need to replace the filters regularly as well. We teach them that their equipment is still perfectly fine and their home is not "infested" with mold.
Energy efficiency is another area where people are confused and manipulated by others. We are honest with them and give the real numbers in how much they will save. The estimates they see advertised are just that – estimates based on the KWH usage. Every home is different. It depends on set points. On every call we ask the customer questions about their lifestyle and what is important to them when concerning comfort in their home. Then we customize the system that meets their requirements.
For example, if a seasonal resident has a vacation home that they only occupy for 3-4 months a year while the other months the home is empty, we don't recommended that customer buy a high-end premium 24 Seer air conditioner because they will never see the payoff. If they are using an air conditioner 3-4 months, while the other months it is set at 82 degrees, the cheaper 13-14 Seer unit will perform just as well, and save them almost the same amount of money.
Ready for Us to Evaluate Your AC System?
Are you looking for an air conditioning company in Southwest Florida you can trust to advise on whether to do a clean and check or replace your ac unit? Contact Home-Tech today! Since 1981 we have improved indoor air quality and energy costs for homeowners. Our Comfort Specialists will guide you on the selection of energy efficient and properly sized air conditioning systems, programmable thermostats, air cleaners, humidifiers and two stage technologies available. Home-Tech has an A+ BBB rating. Read our BBB reviews and our Google reviews.
Get a FREE evaluation for your ac. Complete the online form or contact us today!