Spacing
Front: There needs to be roughly 4 feet in front of the pair for easy loading/unloading.
Behind: Approximately 6 inches is needed for hoses and venting space behind your washer and dryer.
Sides: Basically you want to give about an inch on the sides simply to eliminate noise.
Above: Add extra space for easy opening/closing for top-load.
Setup
Once you know the sizes you can decide how you want to position them. Do you want side-by-side or stacked? Front load or top load? If going with side-by-side, do you want to add pedestals for a more comfortable load and unload of front loading units as well as additional storage?
Check out this laundry room sizing guide for more tips on finding the perfect fit.
Best Sellers – Top Load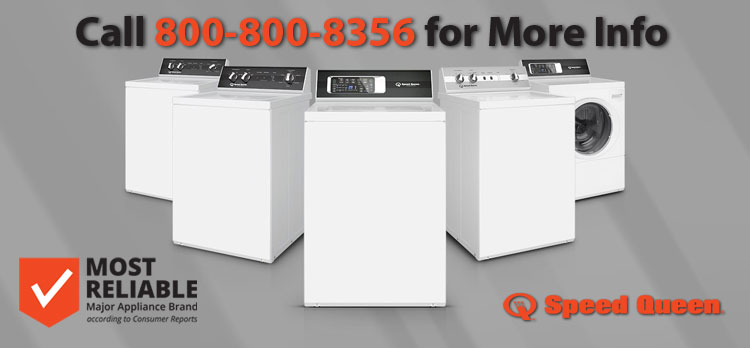 Speed Queen has dominated the market in terms of laundry appliances. Recently they made adjustments to their Top Load line due to government regulations on energy efficiency. This change did not go so well on the first units they launched. They went back to the drawing board and developed a set that mimics their long-loved laundry line called Classic CleanTM.
What makes this model different is the absence of a lid switch. It is the only set on the market without this feature and customers love it! This line does not offer a large capacity machine so that does add a limitation for the consumer looking for a bigger washer than 3.2 cu. ft. The dryer capacity is pretty standard although it does not offer a steam feature but that does not seem to deter people from purchasing it.
>> Check out all that Home-Tech offers our members in the Speed Queen line.
GE has a nice line in the $450 – $600 price point. You can get 4.2 – 4.6 cu. ft. on their top load washers making customers very happy. They offer two different dryers that will match each unit. They offer a "Flat Back" dryer line that does reduce the capacity from the average 7.0 cu. ft. to 6.2 but they fit into smaller spaces where depth is an issue.
>> Check out Home-Tech's GE Laundry line-up.
Whirlpool offers a similar "Flat Back" dryer, however some customers find it difficult that the Whirlpool washers and dryers are 2 different widths because it creates a space issue. Whirlpool washers can be 27″ – 27.5″ wide while the dryers are 29″ wide. This is definitely something to keep in mind if you have limited space.
>> Check out Home-Tech's Whirlpool line-up.
Best Sellers – Front Load
Although Speed Queen offers a front load line, they do not offer the capacity the other brands do and are in a much higher price range.
>> Check out Home-Tech's Front-Load washers line-up.
>> Check out Home-Tech's Front-Load dryer line-up.
Stackable or All-In-One
GE and Whirlpool are the top recommended brands for stackable or all-in-one units. Both brands offer 24″ – 27″ wide in this line. If you are trying to fit these units into a closet, you may have to stick to 24″ so make sure you measure the space before purchasing.
Speed Queen is another recommended brand for stackable units however they run much larger in size overall than most and are higher in price.