Home-Tech recently announced the promotion of one of our elite technicians, Nicholas Barnhart, to the position of Comfort Specialist.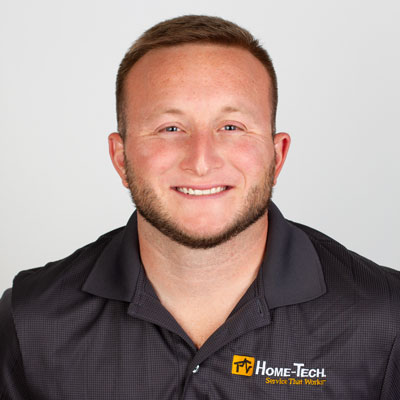 Nicholas "Nick" Barnhart at Home-Tech for 5 Years
Nick graduated from Fort Myers Institute of Technology where he learned HVAC and appliance repair. He went to work for Home-Tech right out of school and clearly loves what he does. For the last 2 years as a technician (2017 and 2018) Nick won the Elite award at Home-Tech which recognizes technicians who are superior in service among their peers all 4 quarters of the year.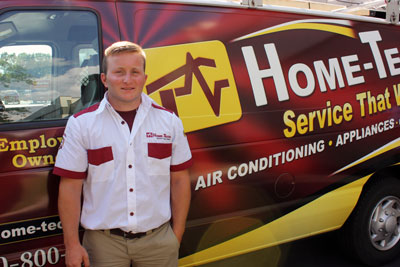 What did you enjoy most about being a technician with Home-Tech?
My favorite part about being a technician was seeing the final product of something that was once broken, now fixed. I also really enjoy meeting the customers.
What area will you serve?
I am happy to be serving Collier County, south of Immokalee Road. It's such a wonderful area with really amazing people.
What do you enjoy doing off the job?
I enjoy spending time with my family, watching football ("Go Bucks!"), my dog Archie and pretty much anything outside: fishing, the beach, boating and hunting to name a few.
What are your goals as a Comfort Specialist?
I want to provide my customers with high-quality equipment, and premium materials, installed by highly skilled technicians. Even though I love spending time outside, I know it's important to have a refuge to return to where the air is cool and clean! I really enjoy helping to provide that for people.
---
Interested in a New AC System?
Are you looking for an air conditioning company in Southwest Florida you can trust for a/c installation? Contact Home-Tech today! Since 1981 we have improved indoor air quality and energy costs for homeowners. Our Comfort Specialists will guide you on the selection of energy efficient and properly sized air conditioning systems, programmable thermostats, air cleaners, humidifiers and two stage technologies available.