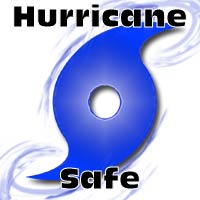 Like it or not, it's officially Hurricane Season in Southwest Florida. All we can do is keep our fingers crossed that we don't end up in the proverbial Cone of Uncertainty. Home-Tech is here to help you keep your air conditioner hurricane safe should the worst happen.
Hurricane Safe – Stay Away Jim and Anderson!
If you've lived in the area for a while, you're prepared for the storm watches and the close calls. But if Jim Cantore of the Weather Channel shows up to broadcast live from our beaches in a rain poncho, we'll know we're in trouble. Worse yet, if Anderson Cooper arrives wearing galoshes and has a cameraman in tow, then it's DEFINITELY time to head for higher ground.
Power Woes
During Hurricane Charley, back in 2004, there was plenty to contend with. Probably the most challenging part of the aftermath was the lack of power. And to make it all the worse, it was August – the steamiest month of the year. The heat and humidity sent many of us to bars, where there was air-conditioning, ice, and relief from the relentless stickiness. And pretzels – bars also have pretzels.
Keep Your Air Conditioner Hurricane Safe
But for many unlucky homeowners, even when the power came back, they were still suffering in sweaty weather because their outdoor air conditioners had gone the way of Dorothy's house in "The Wizard of Oz". Indeed, when you're faced with a category 4 hurricane that carries winds as high as 150 mph, your outdoor unit is at risk if it's not tied down with hurricane strapping.
The good news is that when Home-Tech installs your air conditioner, hurricane straps are part of our installation process. So it's one less thing you'll have to worry about when your eyes are glued to the weather radar and you're filling up endless jugs of water.
3 Tips to Protect Your Air Conditioning Unit
Besides strapping, here are some recommendations from FEMA about how to prepare your air conditioning system before the storm hits:
Turn off your air conditioner.
If you have a window AC unit or portable air conditioner with discharge ducts that exhaust through a window or to the exterior, remove the unit/ducts and seal the opening.
Cover any outdoor air conditioners or condensing units with a tarp or plywood to protect the air conditioner from flying debris.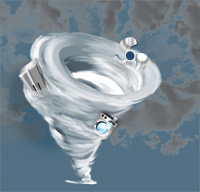 If you purchase one of our air conditioning systems, we'll make sure it's secure. Home-Tech Service Agreement customers always get scheduled first for service when something goes wrong. So hurricane season may be a good season to think about getting coverage.
A Summer of Sunny Skies
Meanwhile let's hope for a relaxing, hurricane-free summer where we'll all be able to breathe a sigh of relief when storm season is over on November 1st.