Have you ever thought to yourself, "what does a home warranty cover?" If so, you're not alone! A home warranty is a service contract that covers household appliances and systems when they break down. They protect you from the unexpected high cost and inconvenience of appliance and air conditioning and heating breakdowns.
What Does a Home Warranty Cover at Home-Tech?
At Home-Tech we call this service contract a Service Agreement. Our Service Agreements cover your major household appliances, air conditioning and heating systems and minor plumbing and electrical issues. Included in coverage with Home-Tech:
Household Appliances: Including refrigerators, freezers, hoods, ranges/ovens/cooktops, microwaves, dishwashers, disposals, washers and dryers and more!
Air Conditioning and Heating Systems: Unlike other companies, Home-Tech provides full parts and labor coverage plus an annual Clean and Check.
Laundry and Water Heaters: Washers, dryers and repair of water heaters.
Parts & Labor: NO CHARGE!
2-Hour Service Call Time Frames
Emergency Service 7 Days a Week
Non-repairable Appliance Replacement (Under 10yrs): NO CHARGE!
"Cost Discount" Pricing or "Gift Coupon Credit(s)" on qualified replacement appliances.
Appliance Delivery, Setup and Installation on qualified purchases: NO CHARGE!
Annual A/C Clean & Check
GOLD Service Agreements: Unlimited Service Calls at NO CHARGE!
Silver Service Agreements: Minimum Service Call Charge!
If you're still wondering, "what does a home warranty cover?," see our Service Agreements page for more details. Additional options are available for equipment coverage and services. Please visit our Options page for more information.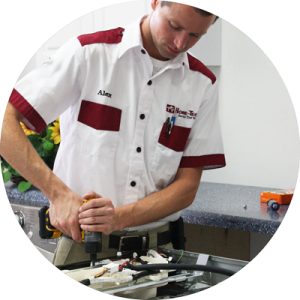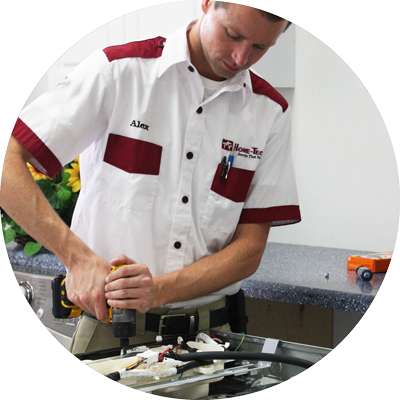 How Does a Home Warranty Work?
When your covered appliances or air conditioning/heating systems break down or malfunction, call Home-Tech to schedule a 2-hour time frame. As a member, you also have exclusive access to schedule yourself if you'd like by logging into your member account. A highly qualified technician will go to your home, diagnose the problem and recommend a solution. Parts and labor are covered at NO CHARGE.
How Much Does a Home Warranty Cost?
We Have a Maintenance Policy with Another Company. Why Would We Need A Service Agreement with Home-Tech?
Most air conditioning companies offer some type of maintenance contract. A maintenance contract normally only offers annual or biannual maintenance – basically clean and checks. These contracts may also include some parts discounts. Home-Tech Service Agreements include FULL PARTS & LABOR COVERAGE including an annual Air Conditioning Clean and Check. So when your system breaks down, you're covered.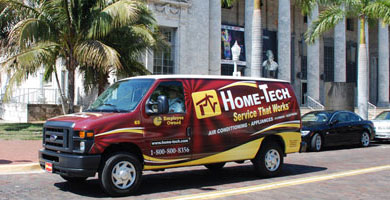 Is Home-Tech a Local Company?
Yes we are. Home-Tech was established in Lee County in 1981. We now also have an office in Bradenton. We have technicians in all 5 counties that we cover: Sarasota, Manatee, Lee, Charlotte and Collier counties who work for Home-Tech. Home-Tech never uses sub-contractors. In fact, we are an employee owned company.
Find out more about Home-Tech.
Do I Have to Have a Service Agreement to Get Service from Home-Tech?
Home-Tech is here for you either way! In fact, most of our Service Agreement customers begin as COD customers. You will receive the same quality of service. The difference is, you pay a service call fee plus parts and labor. Our Service Agreement members have full parts and labor coverage. In fact our GOLD Service Agreement members don't pay a service call fee either!
I Have a New Home with New Appliances. Why Would I Need a Service Agreement?
Fifty percent of our service calls are on appliances or air conditioning/heating systems that are under 10 years of age! Additionally, our agreements include emergency service 7 days a week AND replacement of appliances under 10 years of age when they are deemed non-repairable. Our Members love the convenience, security and priority service of a Service Agreement and renew their agreements year after year.