There are a few things to consider on your own if you are having problems with your dishwasher. However, if you would rather get professionals involved and not deal with the aggravation of fixing your dishwasher, contact us at 800-433-9740 or fill out our online request for service.
The Dishwasher is Not Working at All
This is most likely a power issue.
1. Check the Circuit Breaker
If it has been tripped, reset it and hopefully power will resume to your dishwasher.
2. You May Have Tripped GFI Outlet
This can happen if you've had an electrical surge or power outage. If this is the case there should be a small button popped out on the outlet. Push that button in and it will reset it. NOTE: It may not be the closest outlet to the dishwasher. When a GFI outlet is tripped, all outlets connected that GFI will stop working.
Water Remaining in Bottom of the Dishwasher after a Full Cycle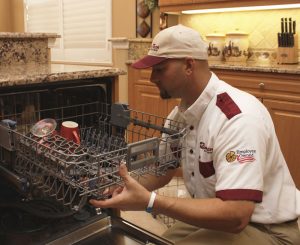 1. Remove the Filter Basket
Remove the lower basket and check what looks like an upside down strainer in the bottom of your dishwasher for food particles and anything that may be clogging it. You can remove the filter basket by removing the screws holding it in place or by twisting and pulling the assembly upwards.
2. Clean It Out
Clear any particles that are in there as well as any buildup of grease or soap.
3. Re-Secure the Filter
4. Check the Plastic Tube
If re-securing the filter does not resolve the issue, check the plastic tube that runs from your dishwasher into your drain line and make sure that line is clear.
5. Make Sure Your Soap Isn't Old
Check to make sure the soap you are using is not old. Old soap creates suds that will not drain out. When suds dissipate they turn into water.
Time to Call Home-Tech?
The above are just some tips to try to help you get your dishwasher working on your own. If you are unable to do so, Home-Tech is here to help! Our expert technicians in your area will come to your house, diagnose the problem and get your dishwasher back up and running asap. We work on all brands. So call us today at 800-433-9740 or fill out our online request for service.
If you have a Service Agreement with Home-Tech, your dishwasher is covered under the agreement! You can count on service 7 days a week – even on holidays. Log into our exclusive Member Services to schedule yourself, fill out our online form or call at 800-433-9740. Whatever is the most convenient for you.
Want to Know More About Home-Tech Service Agreements?
Our Gold & Silver Service Agreements cover all of your household major appliances, your air conditioning system and your water heater.When your air conditioning or appliances break down, our highly trained professional technicians will have you back in operation quickly, in most cases the same day.
Parts & Labor – NO CHARGE!
2-Hour Service Call Time Frames
Emergency Service 7 Days a Week
Non-Repairable Appliance Replacement (under 10 years old) – NO CHARGE!*
"Cost Discount" Pricing or "Gift Coupon Credit(s)" on Qualified Replacement Appliances
Appliance Delivery, Setup and Installation on Qualified Purchases – NO CHARGE!
Annual A/C Clean & Check**
GOLD Service Agreement Members Service Calls – NO CHARGE!
Silver Service Agreement Members – Minimum Service Call Charge!
*Water Heater by option only. Some Restrictions Apply. ** Minimum service call charge applies to Silver Service Agreement Members.
Find out more about what our Service Agreements cover and request a FREE quote.